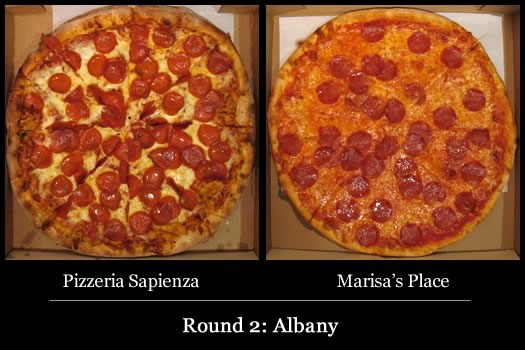 Albany is the last stop in Round 2 of the 2011 Tournament of Pizza, sponsored by Sunmark Federal Credit Union. The pizzerias vying for a spot in the sem-finals in this matchup of pepperoni pizzas:
Pizzeria Sapienza (Albany) vs. Marisa's Place (Guilderland)
How we got here: Sapienza and Marisa's separated themselves from the pack with two solid scores -- a 71 and 69, respectively.
This is probably the most even Round 2 matchup of the tournament. Who will prevail? There's only one way to find out...
Let's eat some pizza!

A quick note about how all this works: The four judges -- Albany Jane, Daniel B, Jerry, and our guest judge -- taste the pizza blind. That is, they don't know which pizza they're tasting during judging. They taste the competitors side by side. The scoring is on a 100 point scale -- each judge represents a quarter of those possible points.
Guest judge
Our guest judge for the Albany bracket is once again Noah Sheetz, executive chef at the Governor's Mansion and a member of the Chefs Consortium, a group focused on promoting local food.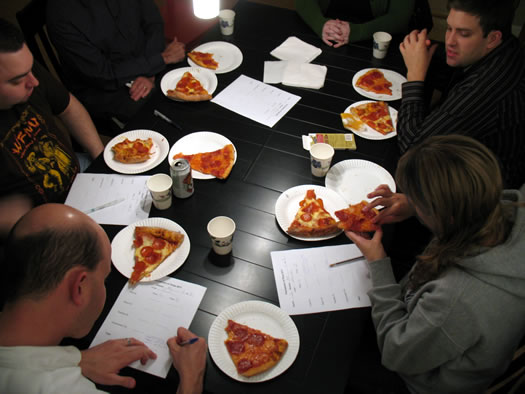 Pizzeria Sapienza vs. Marisa's Place
| | | |
| --- | --- | --- |
| | Sapienza | Marisa's |
| Crust | 12 | 14 |
| Sauce | 14 | 14 |
| Toppings | 13 | 16 |
| Overall taste | 27 | 31 |
| Totals | 66 | 75 |
Post game
A close match in every category! The difference was in the crust and toppings.
Sapienza's crust was described as being "bready" with a "beautiful" bottom. But a few judges noted some gumminess, and decided it was just a bit too thick for them. In contrast, Marisa's crust was thin -- one judge said it could have used "more lift." But the judges appreciated its crispiness and seasoning.
Both shops offerings had good pepperoni coverage (especially Sapienza) -- the difference was texture and flavor. Sapienza's pepperoni was curled and crispy -- which the judges liked -- but had a mild flavor -- which the judges did not like. Marisa's pepperoni was a bit thicker and didn't crisp as much. But it the judges really liked the "meaty," "zippy," "spicy" pepperoni, which "commingled with the cheese in a delightful way."
The judges liked Sapienza's pie, praising its balance of flavors and textures -- but a few of them just couldn't get past the thickness of the crust. As for Marisa's, one judge concluded "picture perfect" and another, "classic NY pepperoni slice."
So Marisa's advances, with Guilderland carrying the flag for the Albany bracket. Yep, the "city of" is shut out of the finals this year.
Up next
Marisa's takes its very good second score into the semi-finals, where it will face off with 5th and 50 out of the Schenectady bracket.
Next up: semi-final results, next week.
Thank you, thank you
Many thanks to executive chef Noah Sheetz for serving as a judge in the Albany bracket!
Earlier:
+ Results from Round 2 in Troy
+ Results from Round 2 in Schenectady
+ Results from Round 2 in Saratoga.
+ Results from Round 1 in Saratoga.
+ Results from Round 1 in Schenectady.
+ Results from Round 1 in Troy.
+ Results from Round 1 in Albany.
The 2011 Tournament of Pizza is sponsored by Sunmark Federal Credit Union, which is collecting donations for the Regional Food Bank of Northeastern New York to help Irene recovery efforts.
Hi there. Comments have been closed for this item. Still have something to say? Contact us.