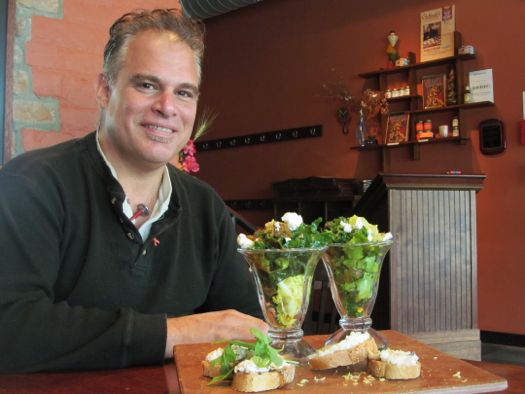 "I do peasant food," says Ric Orlando, "I'm a blue jeans chef -- that's how I cook."
The Chopped champ and New World owner is the honorary chair of the AIDS Council's annual event celebrating Beaujolais nouveau -- the young wine made from Gamay grapes -- and it seems like a good fit. Because Beaujolais, Ric says, is a blue jeans kind of wine.
"Beaujolais, to me, is a great everyday, at the tavern, on the terrace, on the deck, in the bathtub, with breakfast kind of wine," he says.
The Beaujolais is fermented only a few weeks before its release is celebrated with parties worldwide.
Orlando says he's a big fan of the wine and he's come up with a few new dishes he'll be pairing it with at the AIDS Council's Beujolais nouveau release party on November 15.
After the jump, talking with Ric about pairing food and wines, America's slowly changing palate, Italy's gastronomic intelligentsia, cheap wine vs. bad wine, and licking hubcaps.
What's the big deal about the Beujolais nouveau wine? Why should we care about it?
We should care about Beaujolais for a couple of reasons. One is that it's been over a 100-year tradition -- or more -- the new crushing of the Beaujolais. This is a wine that people get excited about drinking the minute it's wine. As soon as it's done fermenting, drink it. As opposed to laying it down in the cellars for years and letting all these different flavors develop -- which is a marvelous, fabulous aspect of the wine world, but this is different.
Vino verde from Portugal is similar. Make it, ferment it, drink it.
I think a lot of American people misconstrue the drinking of wine with the ceremony of wine. There are certainly plenty of wines that require a ceremonial homage. "I'm opening a beautiful bottle of wine I want to make sure I make exactly the right food, make sure it's exactly the right temperature and have exactly the right glass."
And then there are wines like Beaujolais, which is an everyday wine which you can drink out of a water glass. You can put it on the rocks, you can add seltzer to it, you can drink it in a wine glass -- it works with a lot of things. It's very food friendly, it's got good acidity, it cleanses your palate. There's no residual sugar, but the Gamay grapes give off a little bit of sweetness, and it's got that little bit of minimally graphite flavor. I think it's a really a fun wine when you're not comparing it to Cakebread cabernet -- it's a whole different experience.
The more I've traveled in Europe the more I realize most of the wine that's drunk is drunk like Beaujolais not like California Cab. They drink wines like California Cab when they're having a big dinner, but when they drink everyday, they drink cheap wine. When I say cheap wine, I don't mean bad wine -- an inexpensive everyday wine. When we were traveling in Italy we'd bring our bottle to the store and they'd tap out some Primitivo into the bottle -- we actually had like a gasosa , like a 7-Up bottle that we screwed the top back on. I thought OK, we're in Italy? This is what we do here? But that is very common.
I think the idea of stuffy Europeans in a castle drinking wine -- I mean, that exists -- but most are like me and you and they want to spend 4, 5, 6 euros on a bottle of wine that they can enjoy with anything. And I think Beaujolais really fits in that mold. I've done spritzers with it or variations on the sangria theme. I've put ice cubes in it on a summer day -- bring it to the beach and drink it out of plastic cups. It's casual but very delicious. I like wines like that. I like to drink as much as possible (laughs) and I don't always have time for ceremony.
So what are you making to pair with the Beaujolais nouveau?
I've noticed that nobody ever serves salads at these things, so I thought it would be nice to do something green. So I'm doing a winter kale salad.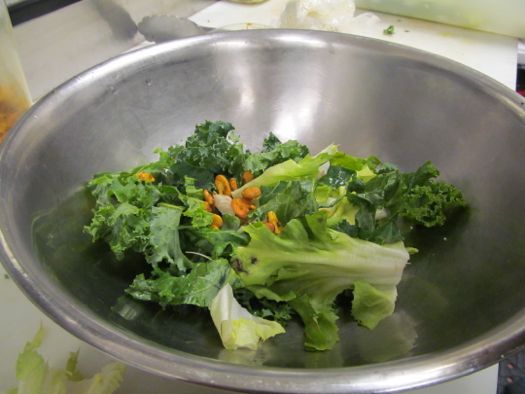 It's actually kale and escarole -- my two favorite greens -- both bitter, both really good for you, lots of minerals. And so to make them palatable and delicious we make some local apple chutney -- it's got some turmeric, some fennel, Indian spices, molasses, vinegar. We make our own curry oil, and we make a curry vinaigrette.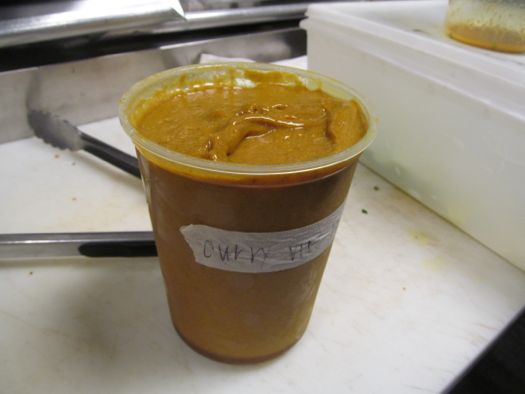 And we make the most delicious curry cashews you've ever had.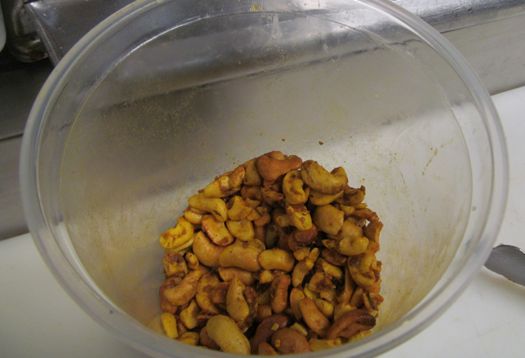 You combine the three and get these beautiful, light, kind-of-bright Indian flavors on the bitter greens. You just can't stop eating them, they're really good. And the salad is all those ingredients. And of course the local Coach Farm goat cheese.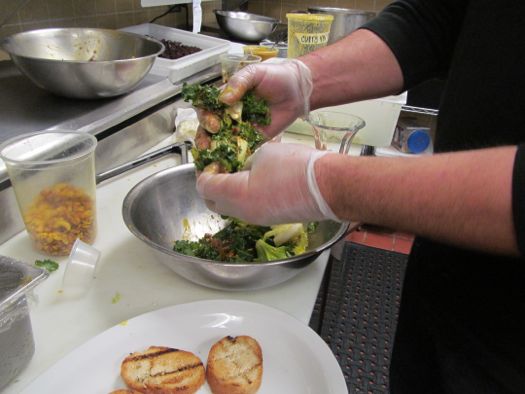 If you took the goat cheese and the chutney alone, that would be delicious. You could eat the curried cashews by themselves, that would be delicious. But this is definitely [a] whole is greater than the sum of its parts because the kale becomes something that you can't stop eating.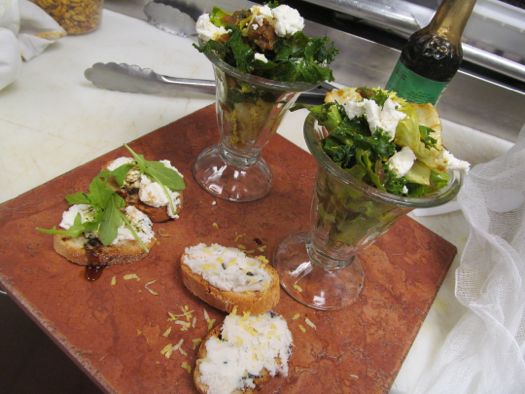 And then I made a couple of what I call the "gastronomic intelligentsia of Italy" bruschetta. This is not your typical bruschetta.
This is home-made ricotta that I just made with Meadow Brook milk and cream, drizzled with a little balsamic and pumpkin seed oil. The other one, which looks just like the ricotta, is lardo, which is essentially pork fat that you cure with salt and spices.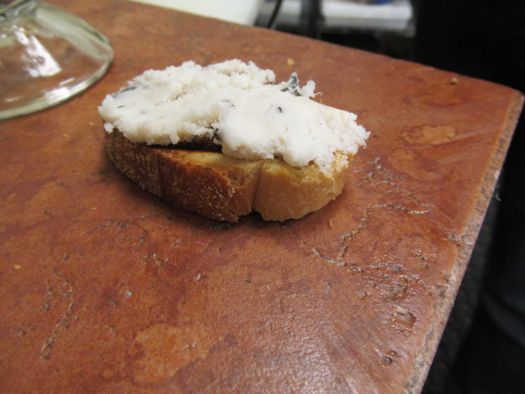 You rub it between your hands and the warmth of your hands begins to kind of melt it down into a softer consistency and then you let it set and you spread it. It's really popular in Tuscany, among the hipsters in Italy. The Batali world is putting lardo in everything. It's basically pork butter spread on toast with a little bit of agave -- and I would like raw honey but I didn't have any, so I used agave which was good but the raw honey is a little more intense -- and a little lemon zest.
How does that work with the Beaujolais?
If you drank a big Cab with this salad you would be wasting both dishes. The cab would be washed out by the apple chutney and the minerals of the greens would be too strong. You wouldn't taste the greens and you wouldn't taste the salad. You'd have a clash. Big red wine and sweet salad is like -- bad wine pairing 101. Because you have vinegar and sugar, sweet and sugar -- things that antagonize Cabernet.
But Beaujolais is the kind of wine that, it's got enough acid, it's got enough fruit, it's got enough tingle -- you can have a salad with it. And there are not many good red wines with salad. Not that people don't do it -- hot red wine with cold salad. Doesn't mean I don't want to clobber them when they do it. They do it all the time, though, hot red wine and cold salad. Mmm... have you licked a hubcap lately? (laughs)
America is a long way into understanding food and wine pairing. The industry is now more and more into it and the consumer is turning the corner.
People are getting hipper to it. I'm selling a lot more Riesling here, a lot more lighter reds with food. instead of "give me the biggest red you have and I'm going to have Thai curry scallops with lots of chilies with it."
If cooks aren't cooking in the classical style -- steak with brown sauce -- then you have to rethink your wine pairing. You don't want to waste your wine. I could drink Gamy five or six days a week with what I eat: Chinese takeout, Indian food, ham and cheese sub.
Somehow that's not what we pictured you eating -- take out Chinese and ham and cheese subs.
(laughs) I eat regular food. I just don't eat junk.
____
AOA is again a media sponsor for the AIDS Council's Beaujolais nouveau event. And yep, New World Bistro Bar advertises on AOA.
Hi there. Comments have been closed for this item. Still have something to say? Contact us.