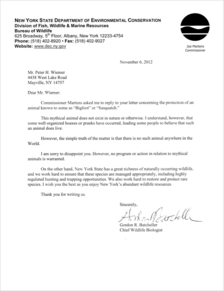 We were forwarded this letter Tuesday by Peter Wiemer, director of the Chautauqua Lake Bigfoot Expo. It's correspondence from the state Department of Environmental Conservation regarding Wiemer's concerns that bigfoots* currently don't have strong enough protections from hunting, especially considering a recent $10 million bounty on sasquatch:
Dear Mr. Wiemer,
Commissioner Martens asked me to reply to your letter concerning the protection of an animal known to some as "Bigfoot" or "Sasquatch."
This mythical animal does not exist in nature or otherwise. I understand, however, that some well organized hoaxes or pranks have occurred, leading some people to believe that such an animal does live.
However, the simple truth of the matter is that there is no such animal anywhere in the World.
I am sorry to disappoint you. However, no program or action in relation to mythical animals is warranted.
On the other hand, New York State has a great richness of naturally occurring wildlife, and we work hard to ensure that these species are managed appropriately, including highly regulated hunting and trapping opportunities. We also work hard to restore and protect rare species. I wish you the best as you enjoy New York's abundant wildlife resources.
Thank you for writing us.
Sincerely,
Gordon R. Batcheller
Chief Wildlife Biologist
We contacted DEC about the letter and agency spokesman Rick Georgeson confirmed it's real. Also: "We have no further comment on this issue."
Earlier correspondence between Mr. Wiemer and DEC indicated that if sasquatch were real, they would be protected by state law. Good to know.
From Mr. Weimer's press release this week: "We have had nine eyewitnesses to date, of Bigfoot sightings in Chautauqua County come forward resolving themselves of the burden of knowing what they saw and were afraid of or not willing to tell because of fear of ridicule. All but one wished to remain anonymous."
Update: The TU's Casey Seiler talked with Wiemer about his concerns.
By the way: The second Chautauqua Lake Bigfoot Weekend & Expo is scheduled for for April 26, 27, and 28. Well played, Mr. Wiemer.
Hi there. Comments have been closed for this item. Still have something to say? Contact us.