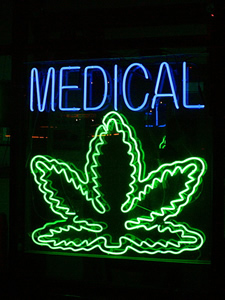 Noted: a Colorado-based marijuana company has hired influential lobbying firm Patricia Lynch Associates to push for marijuana legalization in New York State. [NYDN]
One of the main arguments being floated for pot legalization: tax revenue. State senator Diane Savino -- who's been pushing for medical marijuana since at least earlier this year -- told the NY Post earlier this month that licensing and taxing could generate close to $1 billion for the state. We'd be interested in the math behind that figure. We did some back-of-the-envelope estimating a few years back and figured the state could probably pull in at least $230 million. [WSJ] [NY Post]
Andrew Cuomo has publicly been less than enthusiastic about the idea. [State of Politics]
Voters in both Colorado and Washington State recently approved measures to legalize recreational use of pot. Estimates of the revenue potential from taxation in those states are in the $300-$400 million/year range. [CNN] [US News]
Eighteen states and DC now allow medical marijuana, according to the National Conference of State Legislatures -- even though it's still illegal under federal law. A Siena poll reported this past May that New Yorkers support legalizing medical marijuana 57-33.
Earlier on AOA: Pot prices around New York State (2011)
photo: Flickr user Caveman 92223
Hi there. Comments have been closed for this item. Still have something to say? Contact us.