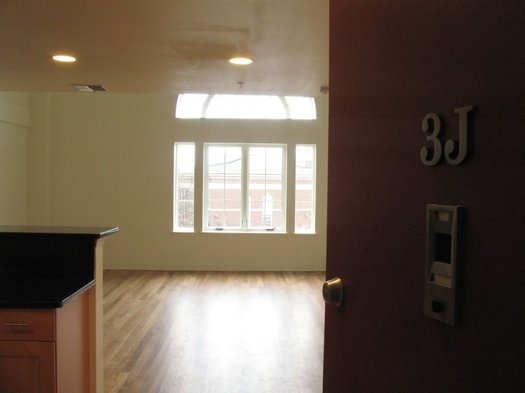 Follow up gawking: the developers for the 27 Western residential conversion project in Albany emailed us recently to let us know the project was almost finished -- and asked if we'd like to have a look.
As we mentioned back in August, we're always curious about these sorts of re-purposing projects. In this case it's a former school building being turned into apartments.
So, yeah, let's have a look...
A bunch of large-format photos are above -- scroll all the way up for them.
Ali Gutman from Fairbank Properties told us yesterday that 7 of the building's 31 units have been leased. She says the building's been getting steady interest, especially from people moving into the area -- some of them relocating here for nanotech-related jobs. Gutman says she expects the building to be fully rented (or close to it) by February.
Here are how the rents shake out:
+ Studio: $800
+ 1 bedroom (single floor, loft, and duplex styles): $975-$1,400
+ 2 bedroom: $1,900
The building's website has floor plans and more details. Leases start December 1. They're currently offering first month -- and if signing before December 1, last month -- free promotions. Each unit includes one parking spot, laundry hookups, water, and access to a fitness center. There are no dogs allowed. (Too bad -- the park is right across the street.) Update: And there is no smoking allowed in the building.
Earlier on AOA:
+ A quick tour of downtown living options in Albany
+ Real Estate Week 2012
Find It
27 Western Ave apartments
27 Western Ave
Albany, NY 12203
Hi there. Comments have been closed for this item. Still have something to say? Contact us.