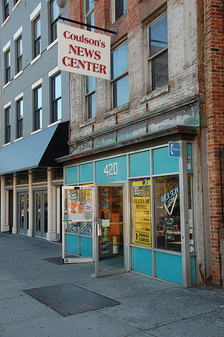 photo: Richard Welty
A tweet we saw today wondering -- hoping -- if lottery lightning would strike twice at Coulson's in downtown Albany for the huge Powerball jackpot got us thinking about the probability of that happening.
As you might remember, Coulson's sold a winning Mega Millions ticket last year that was worth $319 million. A seven-person pool of state employees bought it, and each of them ended up with about $19 million after taxes. Yeah, lucky.
So, what are the chances of that happening at Coulson's again? The short answer: better than it probably would have been without the Mega Millions winner. Not that it will help you.
What?
A working paper published a few years ago by the National Bureau of Economic Research looked at the idea of "lucky stores" for lottery sales. The two authors -- Jonathan Guryan and Melissa S. Kearney -- found that stores participating in the Texas lottery saw large increases in tickets sales after they sold big jackpot winners. And the effect lasted for as long as 10 months.
So we called up Steve Hutchins, the owner of Coulson's, to find out if his store has experienced a similar effect. And he said, yes, Coulson's saw a "significant" increase in lottery ticket sales after last year's Mega Millions winner. And he says the store is still riding that wave of increased sales.
"Many people come in and say they're buying their tickets here because you're the lucky store," Hutchins told us today. He attributes the store's reputation not just to that Mega Millions winner, but also to a string of other winners in recent years that includes three jackpot winners and a bunch of other relatively big wins. "That gets around. It's just psychological, I guess."
And Hutchins figures that reputation has helped push Coulson's to become a relatively big seller of lottery tickets. "In downtown Albany there's a lot of choices to buy lottery tickets. Our sales are much higher than average in this area."
Oh, no, here's something about rolling dice
That's good for Coulson's -- both for its bottom line, and also for its reputation as a lucky spot (we'll explain in a little bit). But it doesn't increase your chances of buying a winner there.
Lottery drawings are, in terms of probability, "independent events." That is, what happens in one drawing doesn't affect what happens in the next. It's like rolling a die: the probability of rolling a 6 is the same every time you throw it -- 1/6. It doesn't matter what the last roll was. The probability is always 1/6.
It doesn't always feel like that to people, though. Because they're on a roll. Because they're hot. Because of luck. There are names for all the different variations on this belief -- one of them is the gambler's fallacy.
It can work the other way, too. Hutchins says there's also a small segment of people for which Coulson's lucky rep makes it unattractive, because they engage in a sort of reverse belief about luck. "There are some people who feel that if you have a winner you're never going to have another winner," says Hutchins. (That's not true, either, of course.)
Human brains are always looking for patterns, whether they're there or not.
So...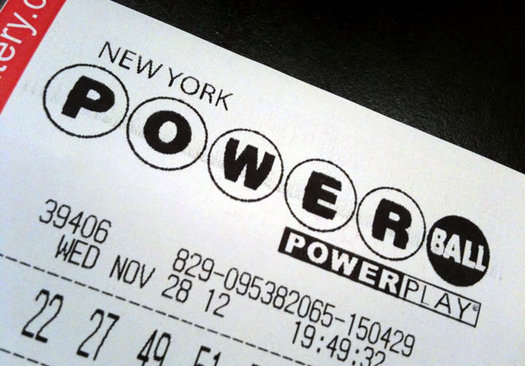 So here's how this shakes out. The probability that Coulson's -- or any other store -- will sell the winning Powerball ticket depends on how many different number combinations it sells. The more tickets sold there -- with different numbers -- the more likely it is that Coulson's will have a winner. So that sales surge following the Mega Millions win has made it somewhat more likely Coulson's will have another winner because it's now selling more number combinations than it would have otherwise sold.
But the probability of any one buyer winning the jackpot is always the same -- whether you buy your ticket at a popular spot like Coulson's, or a place where you're the only buyer. And in the case of the Powerball, the odds that any one number combination will be a winner is... 1 in 175,223,510.
OK, sure, but why not?
And here's the thing about all this: the chances of you winning are crazy, crazy small. So whatever benefit you get out of it will be the fun from being part of it, of joking with your co-workers about it, of dreaming about what you'd do with the money. And if you want to the full bang for your two bucks (aside from actually winning), you might as well go to a place like Coulson's -- it'll be crowded, you can watch the other people, you can trade small talk with them. You can fold the detail about Coulson's being lucky into your story. It'll be an experience.
Hutchins says the huge Powerball jackpot has resulted in much higher than average sales at Coulson's this week. There's the overall interest in the $500something million jackpot, but also Coulson's has become a popular spot for downtown office pools to buy during huge jackpots -- because of that Mega Millions win last year.
So does he play?
"I do. When there's big jackpots. I mean, why not? ... You can't win it if you don't buy a ticket."
And if he won: "I'd probably just share it with my employees and shut the store."
____
OK, but really, what's the probability of it happening again?
The actual probability of a store selling the winning ticket in both a Mega Millions drawing and a Powerball drawing is hard to figure because the information necessary isn't publicly available. We'd have to know how many different number combinations the store sold for both drawings.
But let's say we knew that. The two drawings are independent events, so we'd then multiply the probability of each event occurring by each other.
So, let's just guess. We've totally made up these numbers -- the second total for combinations sold is higher to account for the extra tickets sales. (Again, this is just a vague, back of the envelope kind of thing.)

It looks like a long shot.
Say Something!
We'd really like you to take part in the conversation here at All Over Albany. But we do have a few rules here. Don't worry, they're easy. The first: be kind. The second: treat everyone else with the same respect you'd like to see in return. Cool? Great, post away. Comments are moderated so it might take a little while for your comment to show up. Thanks for being patient.