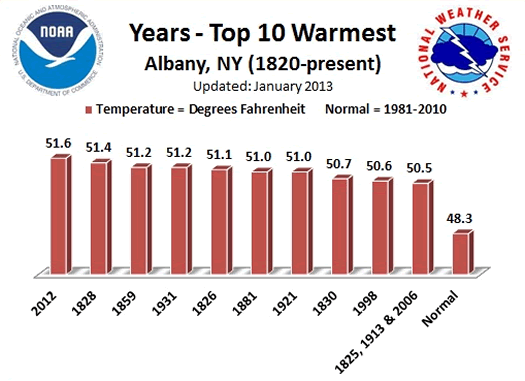 Last year was the warmest year on record in this area, according to the 2012 climate summary for Albany, NY by National Weather Service. In this case, "on record" means dating back to 1820.
The average (mean) temperature for 2012 was 51.6 -- that's 3.3 higher than than "normal" average temp. In this case, "normal" is the average from 1981 to 2010.
2012's record-high temperature was the result of an unusually warm winter and spring. The 2011-2012 winter was the 8th warmest on record. And the 2012 spring was the second warmest (with the the warmest March on record).
The last year was unusually warm pretty much everywhere -- the numbers haven't been published yet, but 2012 was shaping up to be the warmest on record for the entire United States.
Warmer over the long run: The temperature trend lines for both the state and the nation are sloped upward by more than a degree over the last century. [NOAA] [NOAA]
Earlier on AOA:
+ The Karner Blue as another sign from the Year of Odd Weather
+ Hot spring
chart: National Weather Service
Hi there. Comments have been closed for this item. Still have something to say? Contact us.