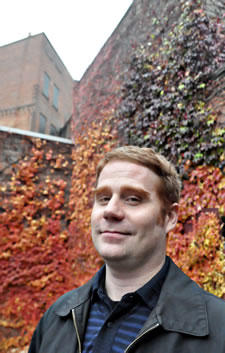 Something to listen to this weekend: A Small American City, the new podcast from Duncan Crary. As you might guess because of Duncan's involvement, it's about Troy. From the blurbage:
It aims to re-acquaint listeners with small city life in North America through the voices, stories, history and urban fabric of [Duncan's] home city of Troy, New York. The program features spoken-word essays and intimate conversations with a cast of characters who bring this unusual Hudson River settlement to life. This is not a news program. It is not a talk show. It is a passport into the lives of the people who inhabit a place. You are a welcome eavesdropper.
He recently talked about the project with the Troy Record.
There are currently three episodes available, and the main part of each is an interview. Our favorite of the three was the interview with local author Jack Casey. (He tells a good story about the time a judge asked him if he was going to stop being an asshole.)
We are Duncan fans, obviously. And we're looking forward to new episodes, especially as Duncan polishes the concept. (If we had a vote, we'd cast it for more interview and less Achilles.)
Here's how to subscribe to the podcast via iTunes.
Also: Don't miss this excellent bird's-eye-view map of 1881 Troy.
Earlier on AOA:
+ Holiday wish list: Duncan Crary
+ Duncan Crary, downtown disciple
Hi there. Comments have been closed for this item. Still have something to say? Contact us.