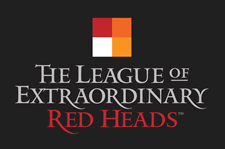 Coming to Troy: the first meeting of the League of Extraordinary Red Heads. And by "meeting," they mean getting together for a drink at a bar (the best kind of meeting, really). The brief agenda: "1) Us. 2) Them."
The meetup is the idea of Duncan Crary, himself a proud red head. He tells us via email:
The main reason why I'm gatherin' the gingers is because I just think the whole thing is funny as hell. And we're a pretty fun bunch. Some red heads are shy and mellow, but the generalizations are, well, generally true. We're gregarious. Firey. Outgoing. Those are my kind of peeps.
You gotta have a sense of humor as a ginger because people say the most idiotic things to you about it every day. e.g. "Do the carpets match the drapes? Duh." Of course they do! It's only with blondes where you may be in for a surprise. ...
This is not to say that we plan to sit around and grouse about the trials of being a ginger at the League. But it's fun to be around other people with a shared life experience.
The meetup is January 30 from 5-8 pm at Bootlegger's on Broadway. There will be drink specials and free pub snacks. And from the blurbage: "Though the League is one of the most exclusive -- only one to two percent of the world has red hair -- the meeting will be held in the main barroom, where all shades of hair color are welcome to join in the fun and observe the spectacle of the 'Red Tide.'"
___
Yep, Duncan was our tour guide for the Troy > Albany Tour last summer.
Hi there. Comments have been closed for this item. Still have something to say? Contact us.