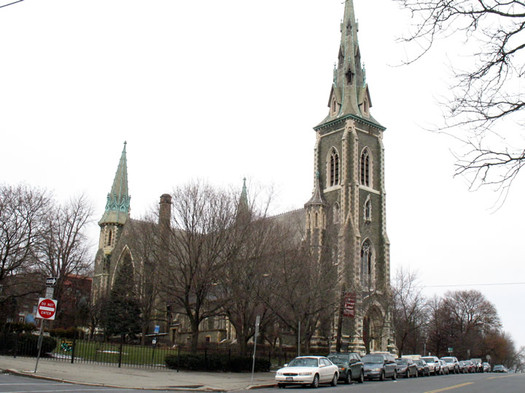 Ravens Head Brewing has yet to hear whether the Albany BZA will approve a required variance for its proposed brewery/restaurant at St. Joseph's, but Ravens Head co-owner Brennon Cleary says they're preparing to move on.
Cleary says in his mind, and in the minds of his investors, the project at St. Joe's is "already dead," but they're going to ride out the process.
"I'm not willing to say I'm done," says Cleary, "but I'm not very optimistic."
And that outlook has Cleary and his partners looking at other options.
Faced with strong concerns about parking and noise from some residents of the Ten Broeck neighborhood, Ravens Head adjusted its plan for St. Joe's in an effort to win a variance. Foremost about the adjustments: the proposed addition of off-site parking. But that's shifted the math on the project.
"We'd have to spend another three quarters of a million dollars to buy a parking lot." Cleary says --that's in addition to the already $3 million expected price tag of the project. And while he says the parking alone might not be a deal breaker, when it's combined with other concessions such as closing at 11 pm, and the $25,000 purchase on an anaerobic waste disposal system to keep the trash indoors, the St. Joe's site starts making less financial sense.
Since the Ravens Head project first appeared in the news, Cleary says he's received inquiries and offers in a number of other cities. On this list of places they're looking at:
+ The Cohoes Armory
+ A warehouse in Troy that could serve as a brewing plant
+ A resort near Diamond Point on Lake George
+ A church in Hudson
+ A property in Windham
Cleary says he's been a bit discouraged by the project's detractors, but he believes there is still a lot of support for it, and if he could make it financially feasible, St. Joe's would still be his first choice.
"That building is just unbelievable. I fell it love with it, but I also fell in love with [Historic Albany Foundation] as an organization, and with the story of the designer of the building -- a classic American story. I couldn't [think] of anymore elegant of restaurant space."
Cleary says they've been asked about putting the brewery in the former Jillian's building on Pearl Street -- which he says wouldn't work logistically -- and even the Central Warehouse (not a good fit). He says they're open to another site in the city of Albany, but haven't found one, yet.
In the meantime, Cleary says Ravens Head has purchased property in Kinderhook, where they planned to store product to help alleviate truck traffic in the Ten Broeck neighborhood.
Ravens Head has lost sites for its proposed brewery before. The project was originally planned as a small B&B and nano-brewery in the Catskills with room for about 65 people, but the intended site was purchased by someone else. They lost another site in Fleischmanns, New York when investors got cold feet. But Cleary -- who left a job with Verizon in New Jersey to start Ravens Head -- says each time they lost a location, the concept has grown in scope.
"Each location after has been bigger and better and infinitely closer. We are very close with St. Joe's, but it could go away. But if it does go away I'm sure you're going to see something much more impressive out of Ravens Head."
The Ravens Head application is still pending with the city's Board of Zoning Appeals. The BZA's next meeting is scheduled for January 23 -- where it could issue a decision (or not).
Earlier and elsewhere:
+ TU: Church pub called a foul brew
+ TU: Council opposes church pub plan
+ Analysis from local brewer George de Piro
+ Is St. Joseph's Church a brewery in its next life?
Hi there. Comments have been closed for this item. Still have something to say? Contact us.