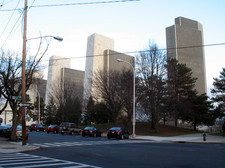 The state Office of General Services announced that it will be making available 1,000 parking spots to state employees in downtown Albany as part of a temporary program. From the press release:
This Temporary Parking Assistance Initiative will allocate these spaces based on state service to PEF and CSEA members who presently do not have spaces in state lots.
OGS initiated this one-time, single purpose allocation for downtown state parking after consultation with PEF and CSEA to provide timely relief to state employees who may be impacted by the City of Albany's Residential Parking Permit System.
Update: OGS spokesperson Heather Groll tells us the spaces are in most of the downtown state operated lots.
The agency has posted a form for members of CSEA and PEF who'd like to apply for spots (they'll be assigned by state seniority). The deadline is February 13.
OGS says it's aiming to complete a "comprehensive restructuring of the state's downtown Albany parking system" by sometime this spring. The state has been working on this restructuring since at least fall. It was prompted in part by the "re-stacking" of state office space, which an OGS spokesperson told us last September had moved about 2,000 state employees to downtown Albany. (We had emailed OGS back then for an answer to a reader question about how many parking spaces the state has for downtown employees -- it was still being sorted out as part of the parking restructuring.)
Last September irisira posted a very good comment about the state of downtown state employee parking.
It's been about two weeks since the Albany residential parking permit system started. We're curious about how things have shaken out so far state employees around the ESP. Longer walks? More bus riding? Complete mayhem?
Hi there. Comments have been closed for this item. Still have something to say? Contact us.