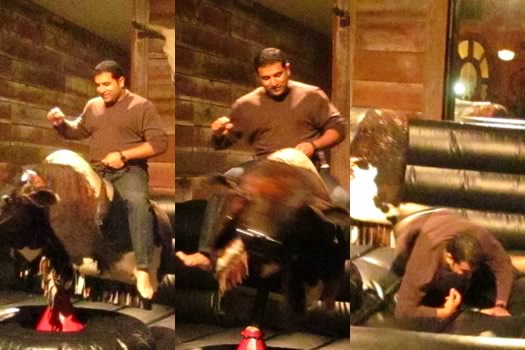 By Casey Normile
Something you may not know about the mechanic bull operator at the City Beer Hall: he's usually trying to help you.
"You know, I'll get tips from guys and they'll be like, 'Make me look good bro, make me look good,'" says bull operator Tim Bultman, who is an actual professional bull rider. "They don't realize there's only so much I can do for them."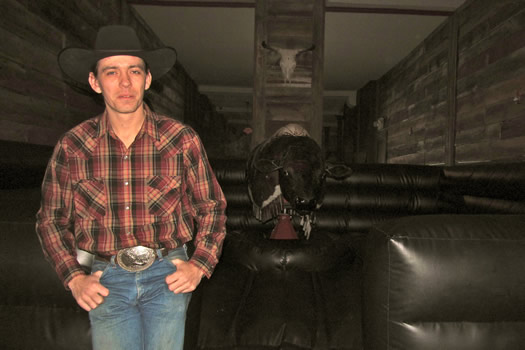 Tim Bultman
Professional-bull-rider-turned-mechanical-bull-operator Bultman, who's 29, was born in Georgia and moved to New York when he was 13. Three years later, he and his friends decided to "try out" riding bulls. By 18, he was riding in the professional circuit, traveling the country, and trying to make a name for himself. (And in case you were wondering, no, he didn't train on a mechanical bull.)
Since then, Bultman has traveled all over the country riding in rodeos, even making stops at local rodeos like the Double M Rodeo in Ballston Spa and The Painted Pony Rodeo in Lake Luzerne.
During his career he has broken his femur, both arms, most of his ribs, his collarbone, suffered some concussions, and had a bull step on his neck. "I've got a scar now where he took a chunk out," says Tim, "but if he had stepped two inches to the left, I'd be dead."
After fracturing his skull on a bad buck that crashed him against a metal gate, Bultman finally decided to slow down his bull riding for a while. Then, almost two years ago, this job at the City Beer Hall fell into his lap. After visiting the bar a few times and sharing stories with the bartenders, they realized he might be the perfect cowboy for their western bar upstairs.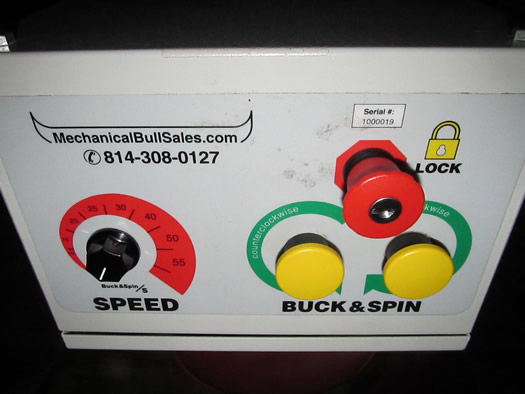 Now he uses his expertise to entertain the ambitious customers who are determined to tame the fake beast. Tim points out there are some differences between riding a mechanical bull and riding a real one:
+ A mechanical bull will not necessarily prepare you to ride a real bull. "They just move differently than a real bull," explains Bultman. "On a real bull, you'd never sit on your butt, but on this one, you kind of have to stay on."
+ A real bull can be much larger. Much, much larger. Bultman says he rode a bull in Cobleskill that was so large, he had to use a different entrance to the ring than the rest of the bulls. He wouldn't fit in the chute that the bulls and their riders usually start from.
+ Real bulls get smarter the more they're ridden. After years in the bull riding circuit, certain bulls learn the movements of the riders, which way they'll lean, and how to buck you. On the mechanical bull, you're just at the mercy of Tim.
+ Having a few drinks might help you to ride a mechanical bull. Having a few drinks would kill you on a real one. "The reason why it works in a bar is because having a few drinks gets you over the jitters of riding," he says.
For Tim, this is the perfect job. "All it really takes is one ride to turn a bad day to a good day. And some people get up there and just ride the tar off of that bull."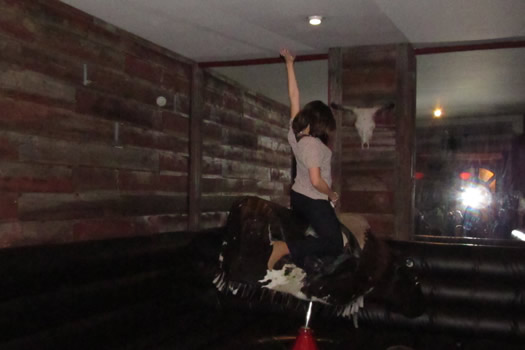 He's seen bachelor and bachelorette parties, young tough guys who think they know what they're doing, middle age regulars who actually do know what they're doing, and people who have trouble just getting on the bull.
Usually he can tell who will do well just by the way they set themselves up on the bull. So here are some of his tips:
+ "Use your hips. That's why girls are usually better at riding the bull than guys are. They know how to move their hips."
+ "Stay over the pivot." The pivot is the stand the bull rests on. If you can stay in line with the pivot, you won't get thrown as quickly. It's science, guys.
+ "Always keep your shoulders square to the ground." It's all about countermovement to the bull.
+ Tim is going to tell you to slap the bull. But if you do that, he cranks up the speed immediately. Only slap the bull if you want to fly.
He admits he's usually nicer to the ladies. And the one person he will always buck: the cocky guy (or girl).
"They don't realize how hard it's gonna be," says Tim. "So the tough guys get up there and think they know what they're doing... and I'll throw them."
____
The mechanical bull is open for riding most nights at the City Beer Hall. But if you're looking for something a little more team-oriented, there's a mechanical bull riding competition coming up February 16. Co-ed teams of 4 will compete in a bracket-style tournament for prizes. It's $100 per team. Proceeds will go to support the Boys and Girls Club.
Find It
City Beer Hall
42 Howard Street
Albany, NY 12207
Say Something!
We'd really like you to take part in the conversation here at All Over Albany. But we do have a few rules here. Don't worry, they're easy. The first: be kind. The second: treat everyone else with the same respect you'd like to see in return. Cool? Great, post away. Comments are moderated so it might take a little while for your comment to show up. Thanks for being patient.