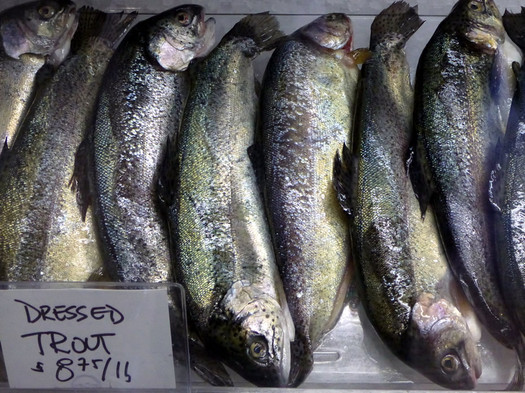 By Daniel B.
Fresh is a meaningless word, primarily because it can mean so many completely different things. Fresh is used for something that is brand new or has just arrived. In food it can differentiate a product from one that has been frozen. Or it can simply identify that something isn't spoiled quite yet.
Dora Swan and Pete Kenyon at Fin are not satisfied with just selling fresh fish. They are also committed to exclusively sourcing sustainable fish. Plus they are creating a community. And now, instead of just selling fish off the back of a truck, they have a brand new store in Guilderland.
So what does "fresh" mean to them? I asked them and was floored by the response.
Dora and Pete say nothing in the fresh fish case at Fin has ever been frozen -- and all of their fish is sushi quality. Dora says she's watched "people leave our stand at the farmer's market, open the packet, and eat the fish raw while walking."
I've heard the term "top of the catch" used to describe the fish at Fin. But I've always assumed it was marketing speak to indicate the best of the best. However it is nothing of the sort. In fact, it's a literal description of where the fish resides in the boat's cargo hold. Dora explains:
"If a boat is going out for eleven days, ours is top of the catch. Which means, ours is not caught on day one of the fishing trip it's caught on day eleven. There are piles of fish in the bottom of the boat, ours are on the top so they are not squished. Then when it comes to shore, it goes to the pier, into a box, and to us. So it's probably two days out of the water."
The amount of time the fish has been out of the water depends on the species and where it was fished. For example, the Arctic char -- which comes in from Iceland -- generally requires another day because of the distance it has to fly by air to the Boston Pier before it is trucked up to Guilderland every Tuesday and Friday. And to source the Copper River salmon -- which gets shipped directly to Albany from Alaska starting May 15 -- Dora and Pete work directly with two couples in Cordova who catch the salmon and ship it via Southwest Airlines. As a result it arrives just sixteen hours after being taken off the boat.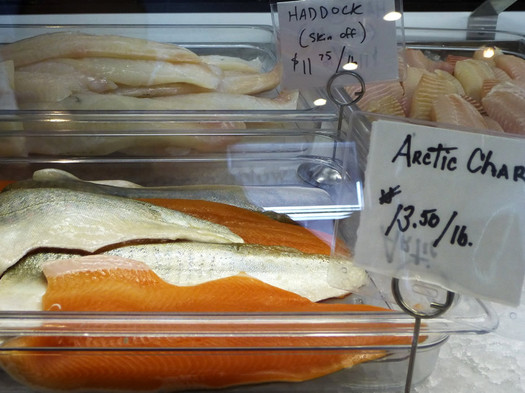 Dora adds: "Our fish is so fresh, if there is a storm in Iceland, and the planes can't take off, we don't get our fish. So if we have fish on our list of fish we are going to be offering, and you walk in that morning that it's here and it's not there, it's because the boats couldn't go out or the planes couldn't take off, it's really that fresh."
Most of their fish come through the Boston Pier, where Pete and Dora have developed a relationship with a trusted sales person. They established the connection through Pete's son-in-law Andy, who at one point was the head fishmonger and fish buyer at The Cousins Fish Market. As a result of this introduction, and a few years working together, Dora beams, "We're now partnered beautifully with folks at the pier who really are quality assurance people for us. Because we don't bring in a ton of fish like a larger supermarket might, when we ask for specifications, we get what we ask for."
So Fin can be picky and source the kind of fish they can feel good about.
Sustainability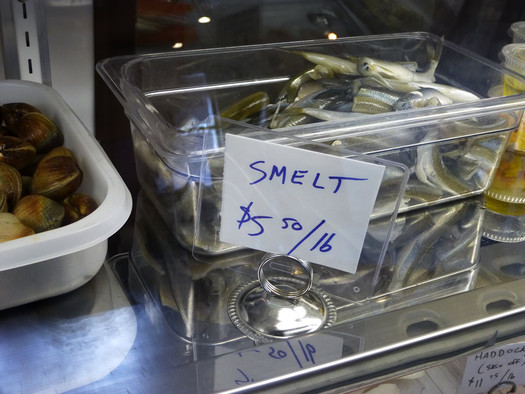 Sustainability is big in seafood these days. Both Hannaford and Price Chopper have partnerships with organizations aimed at sustainability. And even McDonald's is now carrying the Marine Stewardship Council Certified logo on all of its fish. Fin relies on several different sources when identifying which fish is sustainable including Monterey Bay Aquarium Seafood Watch, NOAA, Blue Ocean, and the Marine Stewardship Council.
Dora explains, "Our philosophy is one where we don't want to overfish. We're not interested in bringing in fish that has a tremendous amount of bycatch or any bycatch with it -- so they're bringing up tortoises, killing them and just throwing them back in the ocean -- that just doesn't feel comfortable to me as a person, or to us as people who are living on the planet. So we are taking the sustainability message and really pushing for regeneration as well, so whatever we can do to help that happen so our grandchildren have the same sorts of flavor experience that we've had."
What does that mean in practice?
"Not all of our fish is wild. Some of it is farmed. But now we're looking for responsibly farmed fish. So our tilapia, for example, comes from Costa Rica. So they are not given antibiotics as a matter of course, the workers are paid a fair wage, schools were built for their children, they are bussed to their work, and they receive benefits. That feels comfortable to us."
The shop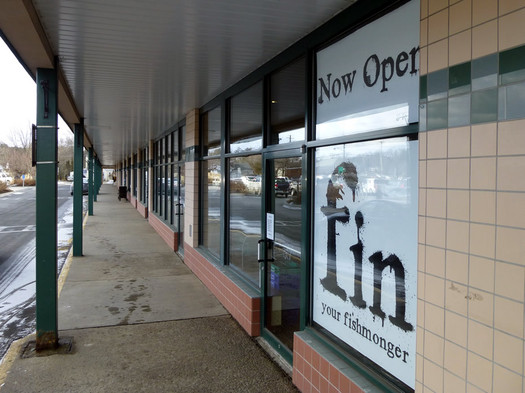 This may be old news to those who have been buying from Fin over the past couple years while they were selling at the Delmar Farmers market and a few other locations around the Capital Region.
Now on the corner of 155 and Western Avenue in Star Plaza, adjacent to Sage Bistro, and occupying the former space of Last American Video, Fin has become more than just a fish seller. And it's really a work in progress. They have begun to stock locally produced products on their store, including Flour City Pasta, All Good Bakers bialys, Three Smiles Kitchen seitan, Franzen's Scenic Acres grassfed beef, Oscar's smoked meats, Puckers pickles, Mountain Winds Farms eggs, 3 Chicks and a Pea spreads, Our Daily Eats nuts, and more.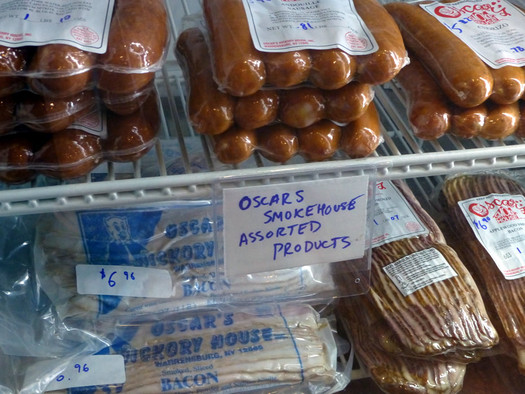 They are also a pick up site for Field Goods for those who subscribe to this local produce delivery service. It is kind of like a short term CSA. But given that the food comes from a variety of farms, it's more like having a personal shopper picking out a bag of seasonal produce from the farmers market. There are also plans for other fresh produce as well.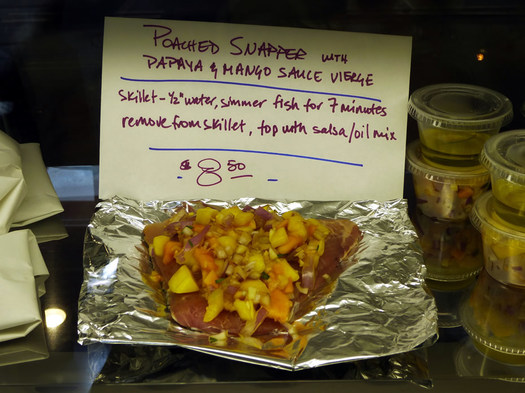 In the future, in addition to the take home meals that are pre-prepped and require just a minimum of cooking, Fin plans to be doing cooking on site once their stove and emergency sprinklers are installed. Regrettably they have made the decision not to offer fried fish because of concerns for their customers health. Seriously, their oysters and even their calamari would be even more heavenly after a bath in the deep fat fryer.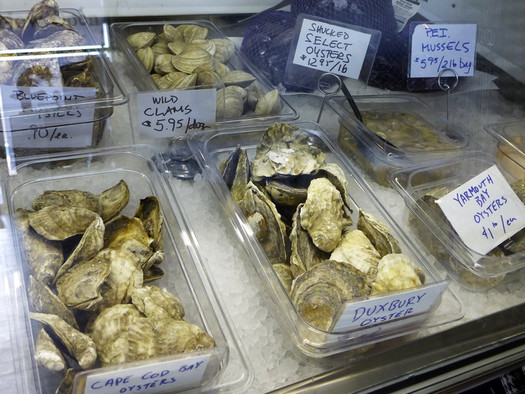 I'm just hoping that Dora and Pete limit the number of tables so that they can abide by BYOB regulations, and I can bring a nice chilled bottle of Chablis to accompany some of their amazing oysters.
Despite finally having an actual storefront, Fin hasn't forgotten where they came from. They will continue to be a part of the Delmar Farmers Market. Says Dora, "The people there are just so super. And without them and that experience we wouldn't be here now. We see those folks here -- we've developed a new clientele as well -- but the people in Delmar are very interested in seeing us succeed. They are just really our champions and we really appreciate that."
At the beginning of their odyssey, Dora says they were "very interested in creating a feeling when people shopped with us that we were not finding when we shopped for our fish. We wanted to know what we were talking about. We wanted to develop relationships with the people we were serving. We wanted them to feel comfortable that they could trust us. We would tell them where the product was sourced and how."
After spending over an hour in their new shop, talking with the proprietors, and watching their interactions with returning and first time customers, it's clear they are doing all of those things and more.
Daniel B. is the proprietor of the FUSSYlittleBLOG.
Earlier on AOA: Fin opening a shop in Guilderland
Find It
Fin at Star Plaza
2050 Western Avenue
Guilderland, NY
Say Something!
We'd really like you to take part in the conversation here at All Over Albany. But we do have a few rules here. Don't worry, they're easy. The first: be kind. The second: treat everyone else with the same respect you'd like to see in return. Cool? Great, post away. Comments are moderated so it might take a little while for your comment to show up. Thanks for being patient.