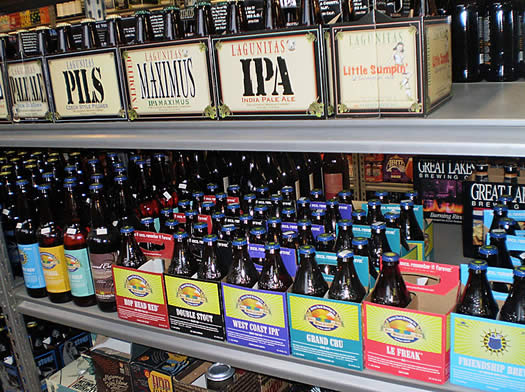 By Jeff Janssens
There's no question that beer lovers of the Capital Region are blessed these days. It's easy to find good beer at a number of bars in the area, there are a handful of beer stores with great selections, and you can even fill a growler at some area supermarkets now.
"[The beer scene] is huge now," says Mike Smith of Hoosick Street Beverage Center in Troy. "You see it here through the RPI kids. On Friday nights, we used to sells kegs of Keystone. Now they're all buying the good stuff."
That doesn't mean we have access to all the good beer, though. Craft brewing is, by definition, done on a small scale. And because of limited supply and distribution, there are some beers that are either hard to find here -- or just not available.
So I stopped by Hoosick recently to talk with Mike Smith about some of the "holy grails" of beer they'd like to be able to get, but can't -- and some good, locally-available substitutes.

Called "the Wonka Golden Ticket for beer nerds," Hopslam could be on its way from Michigan to New York in the near future -- but don't get excited just yet. "With a brewery like Bell's, I've always heard that if they try to come to the upstate market, they first have to do New York City, Boston, the surrounding cities," says Jimmy O'Connor, regional manager for Long Trail Brewing in Bridgewater, Vermont (he happened to be at Hoosick when I stopped by, and joined in on the conversation). The demand generated by those cities is so great that many growing breweries simply can't invest the resources to expand into this region.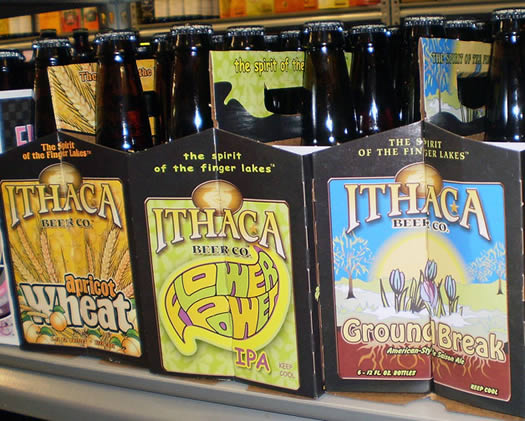 Alternatives: "Hopslam is tough," says Mike Smith, citing the six different hop varietals used in the beer. For that reason, he says, "You can always find a hoppy beer, but it's never going to be the same [as Hopslam]." One popular choice, which I recently had for the first time on tap at The Ruck, is Flower Power from Ithaca Beer Co. It's not as strong as Hopslam (7.5% ABV versus 10.0%), but the similarly inventive use of hops -- it's hopped and dry-hopped several times during the brewing process -- lends Flower Power a balanced piney and citrusy taste sure to please any hop head.
This beer is ranked #3 on Beer Advocate's list of the top 250 beers, just behind its seldom-seen nephew, Pliny the Younger. Noticing a trend? IPAs often hold the "most wanted" title for beer drinkers. Many serious beer drinkers are obsessed with the biggest hop-bombs out there. It's not just a point of pride (who can handle the most bitterness); it's also because these hop-heavy beers provide the most regional differences among brews based on the varieties of hops used and how they're incorporated.
Alternatives: "There's not a replacement for everything," says O'Connor. "Pliny is great. I had it, I liked it a lot, but out here I can find so many other beers that will be satisfying." In trying a beer like Pliny, part of the appeal is in knowing how other IPAs stack up to arguably the best one out there. But if it's just a question of being able to get our hands on some of the best California beers out there, we're fortunate in the Capital Region to have access to some of the West Coast's best, like those from Firestone Walker, Stone Brewing, and Green Flash. Try a Firestone Double Jack and the bold hop profile, high ABV, and bomb of citrusy flavors will have you forgetting about the Plinys -- at least for a while.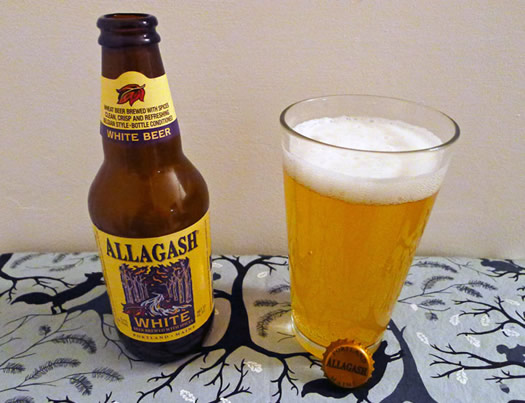 You'd think that we'd be able to get beer from Maine's second-largest brewer in the Capital Region, but that's not the case -- even if you can find Allagash in Western Massachusetts. Occasionally the guys from Hoosick Street might make the drive to pick up some cases to sell in their store (they had some available when I visited), but more often than not we're left wanting when it comes to one of the most popular American takes on this highly drinkable version of the classic Belgian wheat beer.
Alternatives: When it comes to Belgian beers, we're fortunate to live so close to Brewery Ommegang in Cooperstown. Their standard witbier, the Witte, is a good replacement for Allagash White, but it's nice being able to take advantage of many of Ommegang's rarer selections that can only be found at the brewery, or in this region, on tap. Also look out for Long Trail's Double White, a sort of imperial witbier at 8% ABV, available from April-August.
This is a beer I fell in love with during the three long winters I spent in Ohio. It's the most balanced holiday beer I've had, brewed with honey and featuring a seasonal blend of spices, including ginger and cinnamon. It's currently available in western New York, and Smith picked up a couple cases of it in December for Hoosick Street, but those were snatched up almost instantly; the beer has a noted cult following.
Alternatives: "Christmas Ales are a touchy thing," says Smith. "You can make them like the Harpoon Winter Warmer, which is just too spicy for me, but that's why Southern Tier's 2Xmas is good." At 8% ABV, the winter beer from the Lakewood, New York brewer is warming in a way similar to Christmas Ale, and features a unique flavoring blend of figs, cardamom, and clove.
The Alchemist's Heady Topper (Double IPA) and anything from Hill Farmstead
Two tiny breweries in northern Vermont round out our list. Heady Topper is the #1 beer as rated by Beer Advocate users, while Hill Farmstead is the #1 brewery as voted by the users of RateBeer.com. The Alchemist is impressive for their dedication to perfecting one beer. For now, Heady Topper is only available in a couple dozen establishments in the area around the brewery, but they're looking to expand to Boston in the near future.
Hill Farmstead's ever-changing selection of beers, ranging from pale ales to smoked Baltic porters, is even harder to find than Heady Topper.
Alternatives: Who needs alternatives? A visit to Hill Farmstead and The Alchemist would make for a great weekend trip, beer lover or not. Hill Farmstead hosts beer-related events throughout the summer and fall, and even provides camping information for the area. Magic Hat's not far away, and you could stop by Otter Creek and Long Trail (like Emeril Lagasse did) on the way there or back.
____
There's plenty of good beer available here in the Capital Region, and some of the best beers in the world are a short and scenic drive away. If you don't want to travel, beer trading is more popular than ever. And the local beer scene is only growing, as evidenced by Hoosick Street's recent expansion. "We're out of room here," says Smith. "We moved the whole store around last month and still have to add two more shelves."
It's a good problem to have.
Jeff Janssens writes about food and beer at The Masticating Monkey.
Say Something!
We'd really like you to take part in the conversation here at All Over Albany. But we do have a few rules here. Don't worry, they're easy. The first: be kind. The second: treat everyone else with the same respect you'd like to see in return. Cool? Great, post away. Comments are moderated so it might take a little while for your comment to show up. Thanks for being patient.