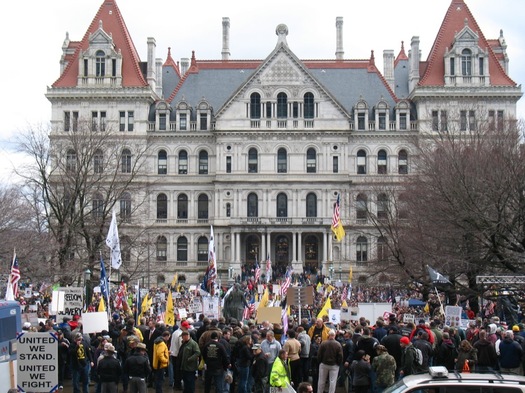 Thousand of people rallied outside the Capitol Thursday for the repeal of the NY SAFE Act. Among those there: NRA president David Keene (Cap Con/NY Now has video). And Carl Paladino was also there, apparently in low-profile mode. [TU CapCon] [State of Politics]
A lot of the talk from the speakers was you might expect at a rally against a gun control law: a focus on the 2nd Amendment (and other rights), freedom, charges of government overreach, chants of "Cuomo's gotta go." And there were also some of the caricatures you might expect -- both in the people rallying, and in their messages (there were at a few führer references).
But there was also a lot of talk about things you might not expect if you're only familiar with these sorts of rallies via blurbs on the news. And it's the kind of stuff you could easily come across at, say, an anti-fracking rally (or whatever the issue): the importance of voting and voter registration, paying attention to what you're elected representatives are doing, problems with the legislative process and back room dealing.
Here are a bunch of scenes from the rally...
The photos are in large format above -- scroll all the way up.

Hi there. Comments have been closed for this item. Still have something to say? Contact us.