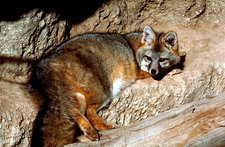 The Albany County Department of Health reported today that a woman in Cohoes was bitten by a potentially rabid grey fox this morning (area map). The fox got away, and officials are urging people to keep an eye out for wild or stray animals that are acting strangely -- and call 911 if one is sighted.
Update: A fox -- maybe the fox -- was shot by Cohoes police later in the day. Update update: The fox that was shot tested positive for rabies, Cohoes police say. [TU] [@CBS6Jennifer]
Rabid foxes turn up now and then in this area. Three foxes tested positive for rabies between January and October of 2012 -- one each in Albany, Rensselaer, and Saratoga counties -- according to the most recent data posted by the state DEC. There were also three positives in 2011 -- two in Saratoga County, and one in Schenectady County. Statewide that year there were 26 positive tests for rabies in foxes, 21 of those in grey foxes.
Back in 2010 a man was bitten by a rabid fox in Greenwich, in a scene that sounds like something from a B movie. From the Daily Gazette:
Richard Leddy, 40, said he was lying on the town beach reading when he heard someone in the water say, "Oh look, there's a fox."
"I thought they meant on the other bank, but then I heard a snarl and looked over to see the fox in mid-leap," Leddy said. "Next think I knew he'd sunk his teeth into my arm."
Yikes.
The animals that most often turn up with positive rabies tests in the state, at least over the last few years, are raccoons and bats. In 2011, there were 162 raccoons that tested positive, and 64 bats. (That's just a raw count of positive tests by the state lab, not a measure of prevalence within the population of those animals compared to other animals.)
In fact, the last two people to die of rabies in New York State -- in 1995 and 1993 -- got it from a bat, according to the state's Wadsworth Center.
Earlier on AOA:
+ "Pet" gray fox on the loose in Troy
+ Fox stalking
photo of a grey fox (*not* the grey fox in Cohoes): US Fish and Wildlife Service via Wikipedia
Hi there. Comments have been closed for this item. Still have something to say? Contact us.