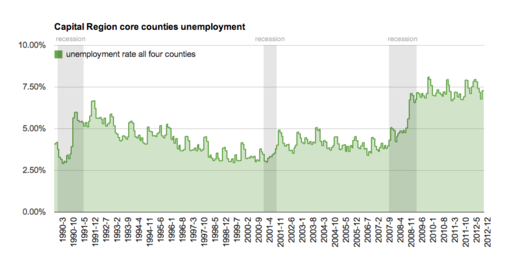 The state Department of Labor released unemployment data today for areas around the state -- and they were remarkably familiar, in a bad way.
The Albany-Schenectady-Troy metro area's unemployment rate was 8.4 percent in January. That was up from 8.2 percent in January 2012 -- though DOL reported there were about 2,000 more people employed this past January compared to the previous January. (The local area unemployment data isn't seasonally adjusted, so the best comparison is the same month the year before.)
Compared to the rest of the state, the Albany metro isn't doing so badly. It had basically the third lowest rate in the state, behind Ithaca (6.7) and the NYC suburbs/Long Island (7.9). Among the areas at the other end of the spectrum: Elmira (10.5), Glens Falls (10.3), and Utica/Rome (10.2). (The metro and county breakdown is post jump.)
The state's overall unemployment rate was 8.4 percent in January, the same as it was in January 2012. And it was up from 8.2 percent in December. (The statewide rate is seasonally adjusted, so month-to-month comparisons are OK.) The national unemployment rate was 7.9 percent.
A wider perspective
OK, the Albany metro's rate -- 8.4 percent -- seems high. How high? To put it in perspective, we pulled the unemployment data for the Capital Region's four core counties for 1990-2012. Large-format chartage is post jump.

The chart is in large-format above -- scroll all the way up.
Metro and county
Hi there. Comments have been closed for this item. Still have something to say? Contact us.