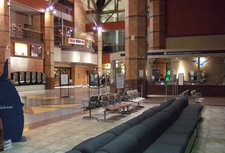 Real estate listing of the day: the entire fourth floor of the train station in Rensselaer. From the CDTA brochure (the transit org operates the station):
There is approximately 8600 RSF of Class A office space available, which encompasses the entire 4th floor of the station. The space is available in its entirety or it can be subdivided into 2 suites, one with 3150 RSF and 5450 RSF respectively. This Class A space provides flexibility due to its current configuration, which includes executive offices, group working areas (bullpens), separate restrooms and lobby, regular offices, a large boardroom, a kitchen and an open mezzanine overlooking the main concourse of the station. The entire floor is encompassed with full height glass providing a great view of the main concourse
The space is $15/square foot, parking included.
Station architectural note: The train station's 17-foot dome is "handmade and
constructed entirely of copper."
(Thanks, Peter!)
Earlier on AOA: Gawking at Kiernan Plaza (the former train station, in Albany)