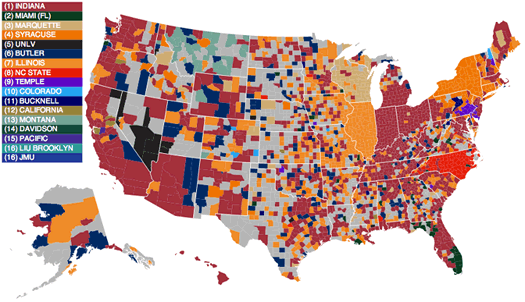 In case you somehow doubted it, most of New York State will be pulling for Syracuse in the NCAA tournament, based on Facebook analysis of "like" data. Mappage above.
The analysis is limited in that it only compares fan data for teams in the NCAA tournament, bracket by bracket. That said, Cuse fandom is probably a safe bet around New York.
A bit more interesting is some of the conference and single team comparisons in the rest of the analysis. It has much of New York State currently pegged as Big East territory -- you gotta think that will flip when Syracuse joins the ACC next year. (We know, it's not right about five different ways. College football is ruining everything.)
By the way: There's still time to enter AOA's NCAA tournament pool. Winner gets a $25 Stewart's gift card.
Earlier on AOA: New York is split between the Giants and Bills
map: Facebook