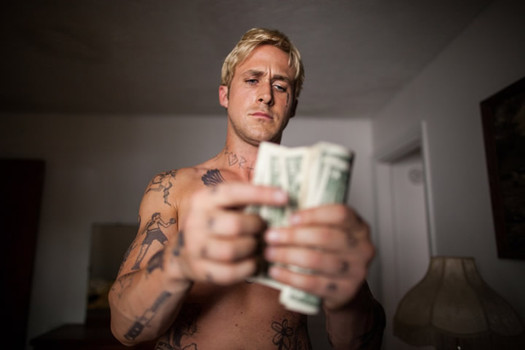 Because you've probably heard not one thing about it: The Place Beyond the Pines opens today in New York City and LA. (It'll start screening here April 12.) So most of the major publications have reviews today of the film, which as you well know, was shot in Schenectady.
Many of the critics seemed to be generally positive about the film, if maybe a little let down. (If anything, none of the reviews that we read today remarked about whether the actors were too hot to live in Schenectady, as one of the early festival reviews did.)
Here's a quick scan of a handful of the reviews...
USA Today - Claudia Puig
A riveting crime thriller, it's also a multi-generational familial saga that approaches Greek tragedy. This gorgeously photographed, wisely crafted and somber drama proceeds in unexpected directions, which makes it all the more engrossing. It's one of the best and most ambitious films of the year.
NY Observer - Rex Reed
Derek Cianfrance, one of the screen's most gifted and innovative new directors, proved to be a master storyteller with a rare and unflinching emotional directness with Blue Valentine, the hauntingly intimate 2010 dissection of a marriage. Reunited with that movie's star, Ryan Gosling, for another richly detailed and seamlessly calibrated triumph of classical filmmaking called The Place Beyond the Pines, his maturity of vision is repeated and expanded into a broader and more complex tapestry of interconnected family relationships that spans generations and keeps you paralyzed with suspense. Told in a daunting but poetic narrative triptych that pares the film into three sections, the effect is lyrical. I have seen it twice and found new things to admire both times.
New York Times - A.O. Scott
... "The Place Beyond the Pines" has a lot to say about class, manhood and the curious operations of fate, themes that Mr. Cianfrance articulates with blunt conviction and, at times, impressive artistry. He goes on too long: the three-part story, spread over nearly two and a half hours, represents a triumph of sympathetic imagination and a failure of narrative economy. But if, in the end, the film can't quite sustain its epic vision, it does, along the way, achieve the density and momentum of a good novel.
Slate - Dana Stevens
With all those balls in the air (not to mention the formidable pair in the director's britches), The Place Beyond the Pines was bound to fumble somewhere. The movie's soulful self-seriousness, like that of its liquid-eyed hero, can occasionally slip into self-parody. But this movie confirms my Blue Valentine-based suspicion that the 38-year-old Cianfrance is one to watch. He's capable of coaxing tremendous moments from actors, he knows how to move a camera, and as this over-laden but never boring movie shows, he's willing to operate from a place of risk.
The New Yorker - David Denby
Now, there may be an interesting movie in the story of a man who's split between the stability of family life and the anarchy of outlawry, but Cianfrance, devoted to [Ryan] Gosling's macho mystique, hasn't made it. Cool, violent, a cigarette dangling from his mouth, Gosling reprises his inexorable-loner routine from "Drive." Cianfrance and the screenwriters Ben Coccio and Darius Marder wrote thirty-seven drafts of the script, but gave him almost nothing to say. He rides, he smokes, he knocks over banks, he loves his baby, and that's it.
(This review a bit spoiler-y.)
The AV Club - Nathan Rabin
Few actors are as riveting doing absolutely nothing, and The Place Beyond The Pines perfectly typecasts Gosling as a noir staple: the decent but rudderless drifter driven to violent and desperate action. To the film's credit, it's damn near impossible to imagine where The Place Beyond The Pines will end based on where it begins, even though its ever-widening scope causes it to lose some of the grubby intensity of its early scenes.
Time - Mary Pols
This last chapter lacks the jagged energy of the previous two -- and some might even fault Cianfrance for indulgently allowing his movie to run 140 minutes. At first I wasn't convinced I needed to sit through it, just as I wasn't convinced by the dusting of gray in Mendes' hair. And yet I was ultimately moved by this last act. That's a credit to the director for steering his film onward when most everyone else would have called it a day. And maybe also a credit to Gosling, who makes such a strong impression in his short time onscreen that in a sense the rest of the movie, particularly the last act, becomes a testimonial to his character.
NY Mag - David Edelstein
The title of Derek Cianfrance's The Place Beyond the Pines is the English translation of the Iroquois word "Schenectady," and I'm thinking that the poor little upstate New York town shouldn't have to bear the weight first of Charlie Kaufman's funereal Synecdoche, New York and now this adrenalized Greek tragedy. ... Some of the key scenes take place amid the pines outside town, where different characters face momentous choices about the direction of their lives--and it was during one of them that I thought it might be time for a new phrase to lessen the pain of crazy-­ambitious but stultifying movies: "Forget it, Jake. It's Schenectady."
____
Premiere: The film premiered in NYC Thursday night. The Daily Gazette's Justin Mason and Patrick Dodson covered it -- here's a big photoset from the red carpet (it's not behind the paywall). It was some high-profile company.
photo: Atsushi Nishijima / Focus Features

Say Something!
We'd really like you to take part in the conversation here at All Over Albany. But we do have a few rules here. Don't worry, they're easy. The first: be kind. The second: treat everyone else with the same respect you'd like to see in return. Cool? Great, post away. Comments are moderated so it might take a little while for your comment to show up. Thanks for being patient.