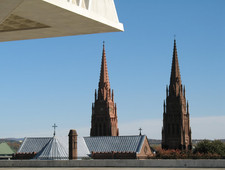 The Albany metro is among the "least religious" metros in the nation, according to a recent Gallup poll. Twenty-six percent of people were categorized as "very religious" based on their answers to a phone survey -- the national average was 40 percent.
Gallup tagged people as "very religious" if they said "religion is an important part of their daily life and that they attend religious services every week or almost every week."
The most religious metro in the nation in the poll was Provo-Orem, Utah -- at 77 percent. Burlington, Vermont was least religious, at 17 percent. From Gallup's write up of the poll:
Relatively few metro areas match the national religiousness average, instead reflecting substantial diversity, with a 60-percentage-point range between the most and least religious cities. This generally mirrors the variation in the average religiousness among the states of the union. Mississippi is the most religious state (58% very religious), while Utah is tied with Alabama in second place. Vermont (19% very religious) is the least religious state.
The Record's Danielle Sanzone talked with a few local religious officials about the results of poll -- it sounds like they weren't surprised.
Earlier on AOA: Report: New York the "least free" state
Hi there. Comments have been closed for this item. Still have something to say? Contact us.