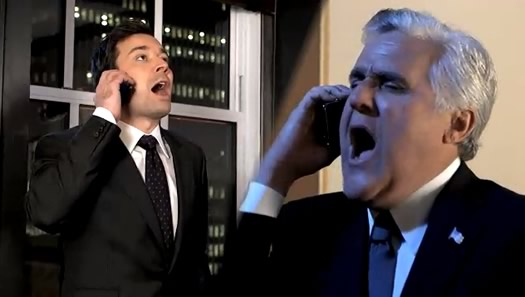 In what has been rumored for weeks -- and the subject of New York State budget legislation -- Jay Leno announced today that he's leaving the Tonight Show to be replaced by Jimmy Fallon. The NBC is expected to announce the switch will happen in February, and the show will move to New York City. [CNN] [NYT]
As you know, Jimmy Fallon is a St. Rose alumnus and appeared on a few episodes of a local TV show back in the day. He left school one semester short of graduating in 1995 to go to LA, but returned in 2009 to graduate -- and give the commencement speech -- after the school awarded him credit for work experience.
The Fallon-for-Leno switch wasn't really a secret -- at least, not functionally. When the New York State legislature is debating a tax credit for your show to move from LA to New York -- the "Jimmy Fallon tax credit" -- the cat has gotten out of the bag and driven off, leaving the bag in way back in the rear view. Fallon and Leno even did a skit together recently making fun of the situation. [NYDN]
In other news, Conan O'Brien is recovering from repeatedly smacking his head on a desk.
Earlier on AOA:
+ Jimmy Fallon's first TV appearance
+ Jimmy Fallon is going to graduate
+ Jimmy Fallon's commencement speech (video)
+ Playing the President. With Jimmy Fallon.
screengrab: NBC
Hi there. Comments have been closed for this item. Still have something to say? Contact us.