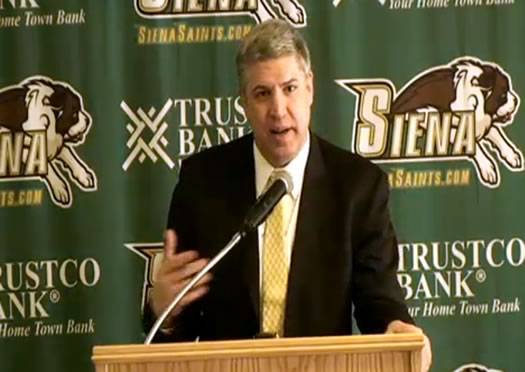 Siena officially named Jimmy Patsos as its new men's head basketball coach Wednesday afternoon. And the Capital Region just got a new, big character.
Patsos is moving to Siena from Loyola (Maryland), where he was 145-135 in nine seasons. (The Greyounds are in the same conference as Siena, but they're moving to the Patriot League next season.) But when he took over the program, it had gone 1-27 the season before. Over the two most recent seasons the Greyhounds were 47-21, with a trip to the NCAA tournament in 2012.
Accompanying that track record is the sonic boom of his personality and reputation.
From a Washington Post article last year about "the Jimmy Patsos legend":
Ask a half-dozen of Jimmy Patsos's friends for their best Jimmy Patsos stories, and you will likely get the same initial response -- "Does it have to be one you can print?" -- followed by some toned-down recounting of some epic, long-ago night in Georgetown, which invariably begins in some bar and ends with some sort of mild mayhem that everyone could still laugh about the next day, once their memories had a chance to cut through the morning-after fog and reconstruct it.
Patsos' short press conference for the Siena announcement wasn't a fireworks display -- he made to sure hit all the marks, talking about how the great school is, how great the job is, how he'd envied the job. He even spread on some hyperbole, comparing Siena to mid major giants Wichita State, Butler, and VCU. But also among the mentions in his roughly 10 minute press conference:
+ That his wife's a lobbyist, and joked that working in Albany could end with an arrest.
+ Name dropped John Wooden.
+ Talked about his friendship with Kevin Plank, the now-zillionare founder of UnderArmour.
+ Said one of his favorite TV shows is The Good Wife and Josh Charles, one of the show's stars, is a friend.
+ Mentioned coaching Lawrence Moten (former Syracuse player, Big East's all-time leading scorer) in high school.
+ Talked about having lunch at Maestro's in Saratoga and checking out Skidmore.
+ Quoted Evita Peron.
On top of that, Patsos is promising the Saints will play uptempo*: "We're going to play fast and press and run up and down. ... I like first one to 80, wins."
Who knows if the experience, and the personality, and the style will be enough to turn around Siena's basketball fortunes. The program sagged considerably under Mitch Buonaguro, going 35-59 in three seasons.
But it probably won't be boring.
____
*This is sort of the standard line by every new college coaching hire, though. His Loyola team was just 264th in the nation for adjusted tempo this season, according to KenPom.
Earlier on AOA: Siena fires its basketball coach
screengrab: Siena Athletics
Hi there. Comments have been closed for this item. Still have something to say? Contact us.