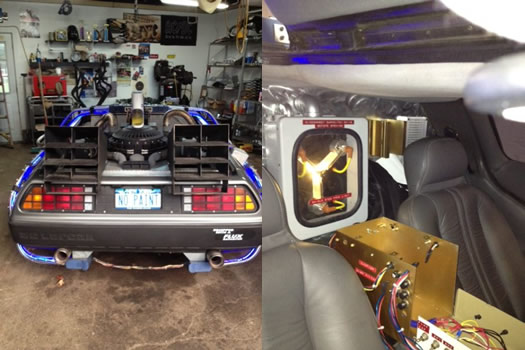 GREAT SCOTT! You might have seen the local DeLorean tricked out to look like the time machine from Back to the Future. It's now for sale.
From the listing on Craigslist (emphasis added):
Delorean Time Machine that is approximately 75-80% Complete...car needs to be completed. Mechanically, I have pulled the motor and Trans, replaced all seals, gaskets, injectors, clutch, axels, bearings, shocks, springs, custom Stainless Exhaust......list goes on. Car currently has 37k and is in Storage. As far as the Time Machine Stuff, it has working Fog Machines, led Lights that are powered by 2-12v batteries and a 3000 watt inverter. I have taken some liberties with the replica while being very close in resemblence it is not a 100% accurate movie reproduction, if you would like a 100% replica.....you can get one and spend upwards of $60,000 from Video Bob in Texas, either way it is scary the amount of attention it gets whether on the highway or at a gas station, car show....basicly anywhere it goes!
Asking price: $25,000 (firm). And it has a flux capacitor.
(Thanks, Olek!)
photos: Craigslist item "Delorean Time Machine Replica"

Hi there. Comments have been closed for this item. Still have something to say? Contact us.