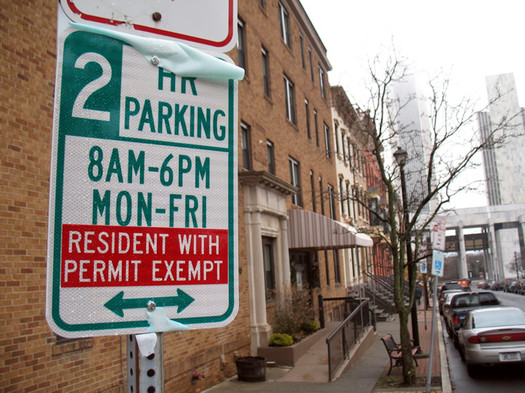 Justin emails with an observation about Albany's residential parking permit system:
As a resident of Zone A [Center Square] I was very pleased to see how there were always a few spots available on our block when the parking permit program first went into effect. However, now there never are but often there are 10-15 "Visitors" on the block. Who knew we were so popular?
I've begun monitoring the permits and notice repeat offenders. Some have been "visiting" for several weeks now.
Justin notes that the city has asked for people to report complaints and instances of permit abuse. But he says he finds that frustrating because he doesn't think enforcement is adequately monitoring the situation.
While I think it is ridiculous that we are paying people to enforce this and are being asked to volunteer to make it work, it seems like our only option. ... Because right now the parking permit system essentially is a $25 tax on anyone who lives in the neighborhood who doesn't want to get towed. There still are no spots available due the visitor tag abuse.
Justin followed up this past Monday morning: "There are no available spots on my block right now. However, there are 14 Visitors permits. Several of the same people who were 'visiting' on Friday but were gone for the weekend and are now back 'visiting'."
It's been about three months since the parking permit system took effect. Any new system is bound to have quirks, bugs, problems -- that's just the nature of new things.
So if you live in neighborhoods covered by the system -- or frequent them because of work or whatever -- what's your take on how it's working so far? And if you've noticed problems, how would you fix them?*
* Honorary bonus points for constructive ideas.
Earlier on AOA: Maps of the Albany parking permit system's three zones
Hi there. Comments have been closed for this item. Still have something to say? Contact us.