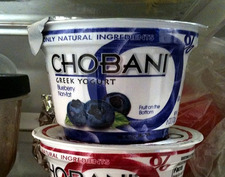 Dairy product fact of the day: New York was the nation's top producer of yogurt in 2012, the Cuomo admin reports.
Producers in the Empire State turned out 692 million pounds of yogurt in 2012 -- up almost 25 percent over the year before. That pushed New York ahead of California, whose production fell almost 7 percent. Ferment that, Golden State.
New York's rise to the top is in large part due to the Greek-style yogurt boom. Chobani, the #1 brand of that type, has a large plant outside Oneonta -- that facility alone produces about half of the yogurt in the state* and consumes 10 percent of all the milk produced by New York dairy farms. And Fage -- the #2 Greek-style brand -- has a plant in Johnstown. And there are more plants in western New York. [USA Today] [Fage]
As the state's yogurt production surges, the state's milk production is having a hard time keeping up -- in part because of the costs of expanding dairy herds and regulations on milk pricing. The situation even has a name: "The Chobani Paradox." The milk crunch was one of the reasons Chobani built a new plant in Idaho. [WSJ] [Food Engineering Mag]
The situation has prompted state leaders to look for ways to help dairy farms expand. Example: Chuck Schumer has proposed federal tax breaks ( not without criticism) and immigration reform (to help dairy farms with workforce issues). And today the Cuomo admin announced it was relaxing some environmental rules on the number of cows that can be kept at large feeding operations. [Chuck Schumer office] [NYDN] [Slate] [Chuck Schumer office]
By the way: Chobani founder Hamdi Ulukaya is scheduled to be the speaker at the Sage Colleges' commencement in May.
* Estimate is based on production figures from USA Today and NYT in 2012.
Earlier and elsewhere:
+ Businessweek profile of Hamdi Ulukaya, which declares Upstate New York "the Silicon Valley of Yogurt"
+ Upstate is yogurt country
Hi there. Comments have been closed for this item. Still have something to say? Contact us.