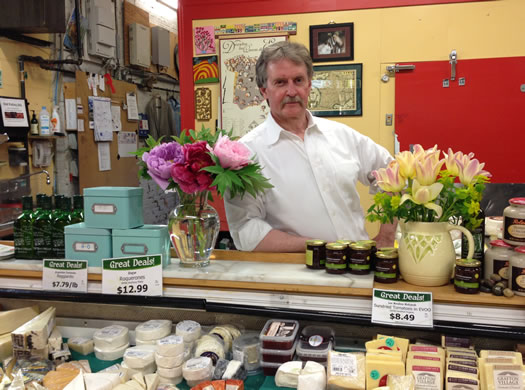 Next month, when the Honest Weight Food Co-op opens its new store on Watervliet Avenue in Albany, a mainstay will be missing.
Gustav Ericson, Capital Region rock star of cheese, won't be making the leap to Honest Weight's new building.
Yes, we said the rock star of cheese.
Ericson has presided over the cheese counter at Honest Weight for the last 12 years, listening to stories, doling out samples, and educating volunteers and customers. And in that time he's developed a passionate band of fans for a guy who sells cheese.

Ericson began his career as a chef, working at several Capital Region restaurants before settling into an 11-year stint as the chef and pastry chef at Sperry's in Saratoga. When he needed a change, it was a passion for people that drew him out of the kitchen and into retail. A friend offered him a job at the former DeLeah's specialty store. Later he opened his own shop on Lark Street, and finally, twelve years ago, he landed at the cheese counter at Honest Weight.
"It was 12 great years," Ericson says. "Cheese has been very, very good to me," he laughs.
He threw himself into retail with the same gusto he had in the kitchen. "When I was cooking, I was trying to make things sizzle. Everything had a little sizzle or extra je ne sais quois, and that's what I tried to do in the retail world."
Ericson says he's never been driven by the dollar. "I like the finer things in life," he says, "but if you find joy in what you do the dollars will come."
What's so interesting about cheese? Other than the fact that its -- you know -- delicious?
"When you look in that cheese case and you see 300 cheeses," Ericson says, " they are all made from the same basic five ingredients. But different cultures, different parts of the world take those five ingredients and make that huge array. That's what is fascinating to me. Those five ingredients can be transformed into both a triple creme Kunick and a Parmigiano-Reggiano. It's like art in that sense ... It's people making the most of those ingredients. It's man's ingenuity. And it started out being just a way of preserving milk."
(By the way: Parmigiano-Reggiano is his favorite cheese -- the only one he keeps in his fridge all the time.)
So yes, Gustav Ericson loves cheese. But as knowledgable as he is , it's his love of people and their stories that helped make him so popular at the co-op. Mention his name to a local foodie and you'll get a great story about some new flavor Gustav shared with them on a visit. Ericson says it's the customers and volunteers he'll miss when he finishes up at the co-op this week.
"I've actually seen people meet at the cheese counter, get married, have children and bring their children to me for their first bite of mild sheep's milk cheese."
He recalls things like making platters for a woman who had just been released from the hospital and wanted gifts for the nursing staff. "She wanted a different platter for each shift of nurses," he says. "She described people to me and we made each group different platters."
Ericson says there's no rift between him and the co-op, it's just time for a change. "I applaud the co-op for taking on such a large enterprise," he says, "I understand growth, but there are different types of growth. And me -- a small and more intimate kind of European venue is more my style."
"The co-op has been really perfect for me because I have wonderful member workers and I've been blessed with a wonderful staff and allowed to be creative with the department. And my customers -- they have kept me there longer than I would have stayed otherwise."
He says he's honored to have had a part in introducing so many people to new specialty foods, but that the co-op's impending move just happened to dovetail with a more internal shift he was experiencing. "It was time for a change. But I'm giving myself time to decide what comes next."
His immediate plans include learning Italian for an upcoming trip to Venice, working in his garden and getting involved in voiceover work (he's got a great voice).
"I've gotten a lot of offers in the food world since word has leaked out that I'm leaving the co-op," Ericson says, "but I can't think that food is the only thing that I can do at this point. I know I'm capable of accomplishing something else and making it sizzle in my allotted time."
Yep, Honest Weight advertises on AOA.
Hi there. Comments have been closed for this item. Still have something to say? Contact us.