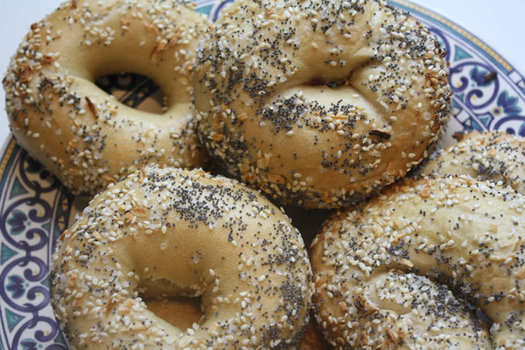 By Daniel B.
Perhaps you are among the many who have been intrigued by the mysterious Albany Bagel Co., which appeared out of nowhere late last year. They have been tweeting, creating interesting maps of Albany, and teasing all of us with the promise of great bagels.
Well, the wait is almost over. The Albany Bagel Co. will begin retail operations at the Colonie Farmers Market at the Crossings this Saturday.
But who are they? Why are they doing this? And what can we expect when they finally start selling their bagels to the public? We talked with one of the founders to find out.
Albany Bagel Co. is a family affair. Officially it's Michael Dirolf, his two brothers, one cousin and a friend. But it is the Dirolfs' parents who will be sacrificing their kitchen on Saturday mornings for the sake of this venture.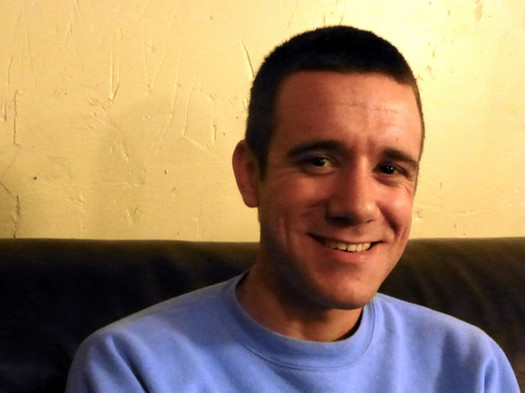 Michael Dirolf
Michael has loved bagels since his first taste of Bruegger's as a kid in Albany. However, after graduating from college he found himself in Manhattan, and had a bagel reawakening. New York City bagels blew the doors off anything he had tried since, and after moving back to Albany to be closer to his family, he was now dissatisfied with the local options.
Concurrently he and his cousin were looking to get involved with the community. They were thinking of doing some kind of volunteer work. But when the notion of starting a bagel company emerged, someone had the idea of donating all of their profits back to the community.
Originally Albany Bagel Co. was conceived to be a truck based operation. But given the challenges of operating a food truck across the various cities in the Capital Region, that initial idea was put on the shelf.
So the farmers' market is a low cost way to test the waters and see if people like their bagels enough to justify expanding into a store.
Michael doesn't have a background in baking -- his day job is in software development. But they've spent the last year honing the Albany Bagel Co. recipe in an effort to model the bagels Michael fell in love with at his neighborhood bakery in NYC's West Village, Hudson Bagels. It became a daily stop for him while living there. On the subject of his favorite bagels:
"A lot of people have a very strict definition of what a proper New York City bagel is like. A lot of people claim that they should be smaller. But Hudson bagels seem to be a little bigger, maybe slightly maltier, and definitely chewier. And the bagels that do have toppings tend to have them totally coated to the extreme."
It took the Albany Bagel Co. about a year of research and development to nail their recipe. But they are very pleased with what they've made and say that it's much denser than what's currently available around the region.
Their commitment to quality -- highlighted by an just-in-time baking plan for the bagels -- is impressive. Explains Michael:
"The one big downside of doing the market, especially for a product like bagels, is that we need to be baking them throughout the day. We can't bake them at six, because by the time one o'clock comes around they're going to be bad. So that means that it needs to be more of a coordinated effort than it would be otherwise... The bagels will be fresh throughout the day, one way or another, either that or they won't be there at all. We'll see how it goes."
Luckily his parent's kitchen is in Colonie, just a short walk from The Crossing. Which is good since each batch only produces 20 bagels at a time. That should mean hot fresh bagels for as long as they last. Which may not be very long.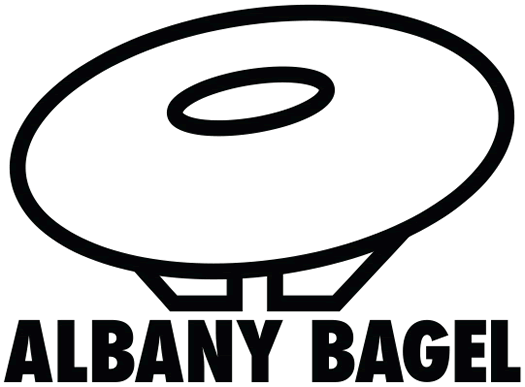 On preparing for the first day of the market Michael notes: "We're just totally clueless what the demand's going to be, so the goal is to bring something between 150 and 200 bagels throughout the day. And honestly, I think that's overshooting what we're going to sell. Because we're only selling single bagels. But if by some miracle we sell all of those, it's enough that we won't have to feel bad about being under prepared."
They will have plain bagels and everything bagels. Since the toppings of everything bagels can vary shop to shop, I asked about those at Albany Bagel Co. "This week it will be salt, poppy, sesame and onion. We have some interesting experiments with everything toppings that I'm actually a huge fan of. But we're trying to decide whether people will be a fan of that experimentation or resent changes to toppings."
All bagels will come with choice of cream cheese or butter (and possibly a tofu spread) for $3, although that is subject to change.
Just don't ask for it toasted. One, because they will not have a toaster at the market. And two, Michael has some thoughts on toasted bagels: "I believe in toasting a bagel if for some terrible reason you are forced to eat a day old bagel. But if a bagel is cooked within the last three or four hours, I feel fairly strongly that it should not be toasted."
Where Albany Bagel Co. goes from here is still an open question. It will depend on how customers react to the bagels. And whether the family still has enthusiasm for the project after months of boiling bagels in the heat of an Albany summer. Will the Albany Bagel Co. expand into a storefront? Or might they revisit the idea of a bagel truck?
We will have to wait and see. Much like you may have to wait for a bagel at the market on Saturday. But hopefully the patient will be rewarded.
Daniel B. is the proprietor of the FUSSYlittleBLOG.
bagel photo: Albany Bagel Co.
Hi there. Comments have been closed for this item. Still have something to say? Contact us.