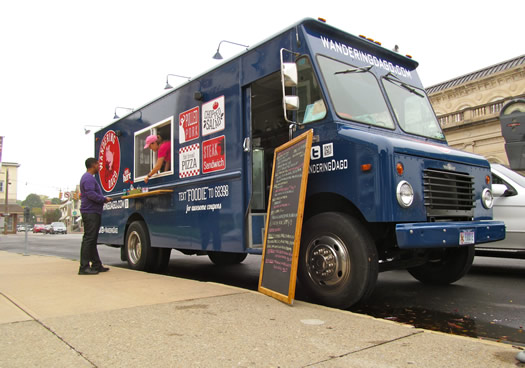 Last week's announcement that the Food Trucks of NY Festival -- originally planned for Albany's Washington Park -- was instead headed for Troy, prompted people to ask: What happened?
So we looked into it. And as we found out along the way, part of the challenge of operating a food truck in the Capital Region is the area's many municipalities -- and their many different rules.
Here's a look at where you're more likely to find -- and not find -- food trucks around the area, and why.
The Capital Region food truck quandary
One of the main problems facing food truck operators in the area is straightforward, even if the solution is not: the Capital Region core includes four counties, and those counties contain a bunch of different cities, towns, and villages. And each of those municipalities has its own rules for food trucks.
Just keeping up with all those different sets of rules can be a tough job, says Tim Taney. He and his wife, Brooke, own the Slidin' Dirty food truck, which often operates in Troy, and on the ESP in Albany during the summer. "If you're in Buffalo or Raleigh [North Carolina]," Taney says, "you don't have to go outside the county or city -- there's plenty of business right there. Here you're bouncing from county to county and every time you cross a city line you have a new set of rules and fee structures. There are different rules for how far you have to be from brick and mortar restaurants. You have to learn a bunch of city codes. Also, every county has its own health department that we need to pay."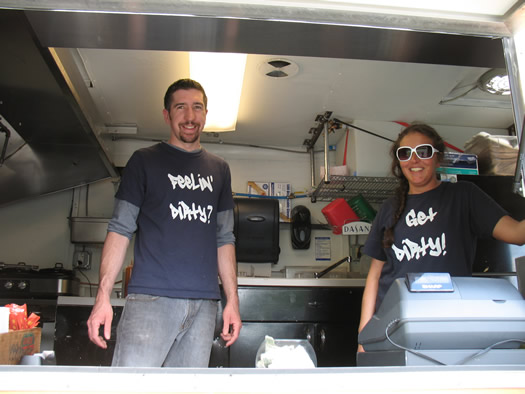 Slidin' Dirty's Tim and Brooke Taney last June
Further complicating the situation: some of the food truck laws were written decades ago, so many of the people working in local government may not be sure how and why the laws came about, which can make interpreting them difficult.
The best guess on the part of most people we spoke with in Albany, Schenectady and Troy city governments is that many of the laws regulating where food trucks can operate were put into place to protect the interests of brick-and-mortar restaurants. As a result, many of the laws include requirements that trucks operate at minimum distances from restaurants.
Slidin' Dirty's Tim Taney says he understands that brick-and-mortar restaurants pay property taxes, but points out that the food truck operators also pay municipalities in other ways. "We are licensed by Albany, Saratoga and Rensselaer county health departments. We have to get the truck re-inspected and we pay each of the municipalities vendor licenses. We pay OGS down at Empire State Plaza."
Danika Atkins, a marketing consultant for Slidin' Dirty, says she wishes laws would change to accommodate a food truck culture. She says food trucks are the kind of thing that can help attract talent to the region from bigger cities. "It's giving them a culture they like," says Atkins. "There's a big food truck culture in cities like Seattle and New York. These are gourmet food trucks, not roach coach places that people are afraid of. A lot of these places do want to have a brick and mortar restaurant someday, but they can't afford it yet, and this is their way of breaking into the market."
Albany
Albany has way more food trucks than other local cities -- but for the most part, they're all clustered around West Capitol Park. In fact, the city only allows food trucks to operate on streets surrounding the Capitol. (There are also allowances for a hot dog cart outside the DMV on Pearl Street and one in Lincoln Park.)
And if a food truck wants to get in at the Capitol? Assistant city clerk Regina Goodbee says the trucks currently in the West Capitol Park have the right of first refusal on their spots, so unless one of them decides to not reapply for a permit, there's no room for new trucks.
This summer you may find Slidin' Dirty, The Wandering Dago and a handful of other trucks out on the Empire State Plaza. That's possible because the ESP is state property, not city property, so again, the rules are different. Same goes for the Harriman State Office Campus in uptown Albany, where Slidin' Dirty can sometimes be found at lunchtime.
The city of Albany also has the highest fee among the four main cities for a food truck vendor permit: $2,170 per year. In Troy it's $500 a year, in Saratoga $250 a year and in Schenectady it's $125 a year.
Andrea Loguidice from The Wandering Dago, which operates primarily in Schenectady, says they'd like to branch out into Albany a little more, but even the festivals have been tough for them to break into. "We were turned down for the Tulip Festival," she says, "and the city doesn't allow food trucks at events like Alive at Five."
Schenectady
In Schenectady the $125 a year vendor fee allows food trucks to operate pretty much anywhere in the city they want, as long as they stay 250 feet away from a brick-and-mortar restaurant. That includes residential areas of the city, where vendors have been known to set up at events and neighborhood garage sales, according to the city clerk's office.
Troy
Troy recently created a zone for food trucks on Front Street, adjacent to the riverfront, with four spots for food trucks. So far two spaces have been claimed by Slidin' Dirty and Wandering Dago.
There's a bit of a discrepancy over the policy in Troy, though. According to the city, food trucks need a $500 vendors license and approval from the city to operate at those designated spots. Troy city spokesperson Jess Sibley says once a truck has that approval, the vendor can apply in writing for an additional spot in one of the city parks. Sibley says approval for spaces in the parks is then decided on a case-by-case basis. Other than that, she says, food trucks can not vend from any city street in Troy.
But in recent years Troy has been a little more lenient with food trucks, allowing them to operate in other parts of the city -- like 15th Street near RPI -- as long as they were legally parked and at least 250 feet from a brick-and-mortar business. After a meeting with mayor Lou Rosamila, Tim Taney from Slidin' Dirty said he was under the impression that this was still the case. In fact, he says, Slidin' Dirty has been operating on 15th Street at RPI for the last couple of semesters. If the rules have changed to forbid that, Taney says, it could influence Slidin' Dirty's decision to stay in Troy. He's hoping a compromise can be worked out in a meeting with the city slated for next week.
Sibley says the Collar City understands that there is an increased interest in food trucks, and that they're going to assess that level of interest this year before deciding whether, and how, to expand the areas where the trucks can operate.
Saratoga
A local vending license in Saratoga is $250 for a year and allows trucks to go anywhere in the city -- except the downtown district, which roughly a two-block radius around Broadway. Sort of. Trucks can't park on city property, which includes city streets and city parking lots. They can temporarily stop to make a sale and then keep going, which might be good for ice cream trucks -- but it's harder when you're making lunch to order.
There are some food trucks in Saratoga, like EatGoodFood, that operate on private property.
The NY Food Truck Festival
The food truck festival -- and how it ended up in Troy -- is another story. One of the festival organizers -- Garth Ellms of Townsquare Lifestyle Events -- says they'd planned about seven events in Saratoga County, but noticed a lot of people from Albany were attending. So they turned their attention south, and figured Washington Park would be the perfect place for a festival.
"We were hoping for a lot of foot traffic with this. The park gets a lot of people anyway, just enjoying the day."
But Townsquare got a letter from the city saying the park was oversaturated with events, and suggested other locations in Albany.
Patrick Jordan, an attorney for the city, says most festivals that apply to be in Washington Park are turned down these days. He says Townsquare's application indicated they'd be bringing 1,500 people into the park and included a request for an alcohol permit. "We get complaints on a weekly basis from the Washington Park Conservancy, and in general, that the park is overused now for festivals."
Ellms says the city suggested the Corning Preserve as an alternate location, but Townsquare was worried it wouldn't have enough foot traffic for the festival. He says being turned down for the park hasn't discouraged him and he still hopes to work on other events with the city.
So how did Troy get into the mix? When Troy officials caught wind of the food truck festival idea, they tracked Ellms down through a post on Table Hopping. "They've been great," says Ellms of the Collar City. "They get what it takes to drive people to town. Albany has great bars and restaurants, but you need to tease people to downtown to see what's there."
Earlier on AOA:
+ Slidin' Dirty
+ The Wandering Dago food truck
Hi there. Comments have been closed for this item. Still have something to say? Contact us.