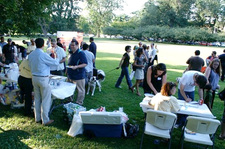 Wendy emails:
A question for the AOA crowd: My husband and I are celebrating our 25th anniversary this summer, and are planning an outdoor party/picnic for early August. Saratoga State Park was our first choice location, but nothing suitable is available (our bad for waiting.) We are going to check out Grafton Lakes and Thatcher -- but what are some other options? It doesn't have to be a state park. We'd prefer within 30-45 minutes of Troy, with a pool (or swimming) and a field for other outdoor activities.
It sounds like Wendy is already focused on state parks or similar places -- and if you have a suggestion for one, great. But, as she said, it doesn't have to be one -- and we're also curious if there are maybe some alternatives. The pool might be a complicating factor.
Got a suggestion? Please share!
Hi there. Comments have been closed for this item. Still have something to say? Contact us.