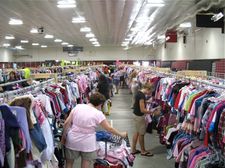 Sean emails:
My wife and I just had a baby and would love to dress the kid in all kinds of ridiculous outfits. However, they grow so dang fast that it just doesn't make sense to spend the cash on something new if they're only going to wear it once or twice. Do you or your readers know of any good consignment shops in the area specifically for kids clothing?
This isn't a shop exactly, but it's something Sean and his wife should definitely check out: the big Pass It On consignment sale for kids stuff, which if tradition holds, will be back in August. There are a handful of other similar sales throughout the year (see the comments on that post).
So, got a suggestion for Sean and his wife? Please share!
Hi there. Comments have been closed for this item. Still have something to say? Contact us.