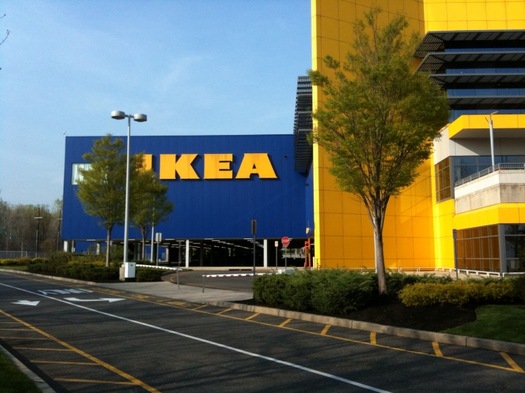 When talking about development in the Capital Region -- or just something people want -- it's not uncommon to hear: "Hey, it'd be great to get an IKEA." The topic came up during the (Re)Imagining Troy project, and we've heard elected officials bring it up in the past.
It's easy to understand the desire. IKEA is a huge international brand. It offers modern(ish) furniture and other housewares at cheap prices. The stores employ a lot of people. It'd be a big development piece in a place like North Albany or Menands. And getting an IKEA is a bit of a status symbol.
But: It's not going to happen in the Capital Region. Here's why.

If you look around online, there's a lot of speculation about how IKEA does -- or doesn't -- pick sites for stores. But we figured we'd just go to straight to the source. So we called Joseph Roth, an IKEA spokesman.
The #1 factor -- by far -- that IKEA uses in determining where to site a store, according to Roth: population. Specifically, a population of 2 million or more people within 60-40 miles of the site -- close enough that it'd be about an hour drive.
"That's the first trigger," explained Roth to us this week. "Our stores are so large that we need the population to support them."
OK, let's say that a metro area has the population. What's the next factor?
What else?
IKEA's distribution network, according to Roth. Everything the company does is about huge economies of scale -- it says it has annual sales of $27 billion Euro. (Well, those hex wrenches are tiny -- but think about how many of those IKEA must buy in a year. Yep, again, huge scale.) Roth says the company is always looking at how it can best plug into its existing network of stores and distribution in an effort to find efficiencies.
"In a perfect world, a new store would go into an existing market," he said. Because in that case IKEA already has distribution set up for that area, it has already-trained staff, and it has brand awareness in the media market.
And if you look at the map of IKEA locations around the US and Canada, they do tend to be clustered around each other. A few examples: the greater NYC area has four stores, Montreal has two, the Toronto area 4, Los Angeles 4, and so on.
That's not to say IKEA won't place a store in an empty spot on its map. But it does so with an eye toward future expansion. Roth points to IKEA's choice to set up a store in Atlanta, which at the time of its selection wasn't near any of its other stores. But Atlanta allowed it to build a network for Florida and North Carolina, where it recently opened a store in the Charlotte area.
After population and distribution, Roth said IKEA next looks at whether it can score a good site. It's looking for roughly 20-30 acres that it can buy, with good access and visibility from major roadways. And he says they're willing to be patient. IKEA had been wanting to build a store in the Miami-Dade County area since 2002 -- but it only recently broke ground because it took a decade to find the right location.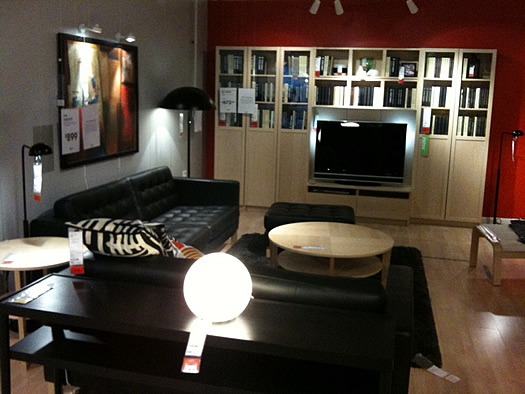 What not?
Roth says he's heard a lot of speculation of what factors into IKEA's siting decisions and some of them just aren't true. Examples: He says the company doesn't necessarily give preference to university towns or port cities.
What about income levels and education? Roth says those sorts of characteristics are taken into account when doing sales projections for stores, but they don't make or break a location.
Right, so... Albany?
If the biggest factor IKEA uses to site stores is a 2 million population, the Albany area isn't close. Within a 60 mile radius of downtown Albany, there are roughly 1.3 million people.
OK, but what if the circle was a bit wider? It's not unreasonable to think that people from, say, Syracuse would drive to Albany for an IKEA, right? And Roth says the company has been asked about the possibility of an IKEA that could draw on the cities of upstate.
Alas, no. Roth says IKEA just doesn't figure things that way. It's looking for areas of 2 million people or more -- with all of that population in the same media market. Upstate fails the test because its big cities are too far apart from each other, all in separate media markets (again, economies of scale).
But there are always exceptions, right? Well, kind of. Roth says the smallest metro to recently get an IKEA is Austin, Texas. It was just below the 2 million threshold -- but the area is growing quickly (and will probably exceed the mark in the not-too-distant future) and the company found a very attractive site in Round Rock, a suburb to the north of the city. But, again, Albany's not going to make it over the bar that way -- its growth doesn't project to push it over the 2 million mark in even the somewhat-distant future.
So is there anything that could put Albany in the running?
Roth was polite but straight to the point: "I get that question a lot. The answer is: double your population."
More IKEA bits
Number of stores in the US: 38
Stores in progress: 2, in Miami and Kansas City
Typical store size: 325,000-350,000 square feet
Typical site size: 20-30 acres (the store is placed above parking if the site is on the smaller end)
Closest IKEAs
Distances from Albany, calculated by Google Maps.
The two closest IKEAs to the Capital Region are:
+ Paramus, New Jersey: 130 miles
+ New Haven, Connecticut: 151 miles
In 2011, we broke down the choice of which one to travel to.
Other IKEAs that are (relatively) nearby:
+ Brooklyn, New York: 153 miles
+ Elizabeth, New Jersey (near Newark): 154 miles
+ Hicksville, New York (Long Island): 165 miles
+ Stoughton, Massachusetts (near Boston): 179 miles
+ Montreal, Quebec: 225 miles
Comments from Facebook
Hi there. Comments have been closed for this item. Still have something to say? Contact us.