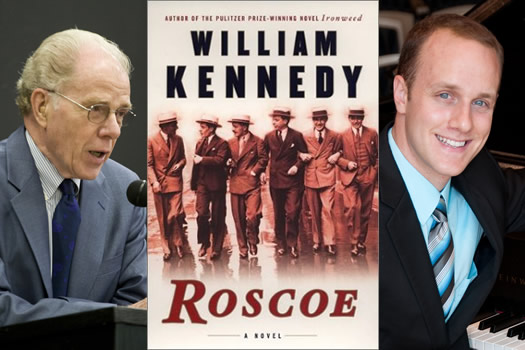 Interesting: Composer Evan Mack -- a professor of music theory and piano at Skidmore -- has worked out a two-year development deal with William Kennedy to create an opera version of Kennedy's novel Roscoe.
From a press release:
The story takes place in 1945, V-J-day. Roscoe Conway, after twenty-six years as the second in command of Albany's notorious political machine, decides to quit politics forever. But there's no way out, and only his Machiavellian imagination can help him cope with the erupting disasters. Every step leads back to the past -- to the early loss of his true love, the takeover of city hall, the machine's fight with FDR and Al Smith to elect a governor, and the methodical assassination of gangster Jack (Legs) Diamond. "Thick with crime, passion, and backroom banter" (The New Yorker), Roscoe is an odyssey of great scope and linguistic verve, a deadly, comic masterpiece from one of America's most important writers.
"I feel certain that Roscoe would be delighted by this development in his history," said author William Kennedy. "His life was grandly operatic in its high drama and its sweeping dimension. Roscoe was attuned to the music of the spheres."
This would be Mack's third opera. He'll be collaborating with librettist Joshua McGuire.
Speaking of William Kennedy and Skidmore... The date for his reading at Skidmore as part of NYS Summer Writers Institute is July 19 -- 8 pm in Palamountain Hall.
photos: William Kennedy - Phil Scalia; Evan Mack - Michael Brooks
Hi there. Comments have been closed for this item. Still have something to say? Contact us.