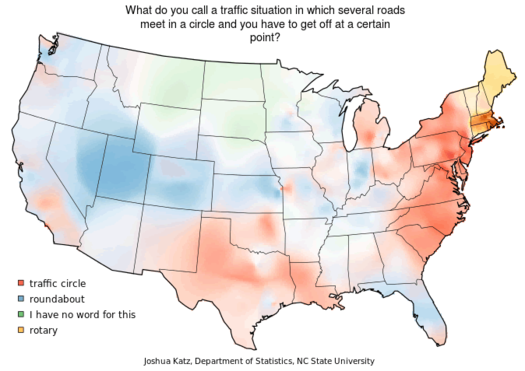 If you're even just a casual word nerd probably know that the soda/pop line runs right through New York State. The fact that we share the state with the poppers in western New York is some sort sign that we can work anything out.
Anyway, a bunch of interactive national dialect maps (based on survey data) created by Joshua Katz at NC State have been circulating online this week -- and they highlight some of the dialect divisions that run through and near the Capital Region. A few examples:
Been
The Canadian way of pronouncing "been" -- saying it like "set" -- has made a deep incursion into central New York. And the Capital Region holding it off from invading the East Coast: 50 percent of people here reported pronouncing been as in "sit" -- but almost 42 percent say it like "set."
Crayon
We're just being pulled apart by the word crayon. About 56 percent pronounce it "cray-ahn," 22 percent as "cray-awn" (as in dawn), and another 22 percent as "cran" (one syllable).
Traffic circles
About 47 percent of people reported calling traffic circles traffic circles -- but the New England-y "rotary" looms across the Hudson, and 33 percent reported using it. (And 13 percent said roundabout.)
Pajamas
Though a majority of people reported pronouncing the second syllable pajamas as in "jam," Capital Region is being squeezed by pronunciation as in "father," from the both the northeast east and southeast.
Cauliflower
We're split almost right down the middle on cauliflower -- half pronouncing the second syllable as in "sit," the other half as in "see" (common nationally only along the northeast coast).
Craig
Basically no one can agree on how to say that name.
There are bunch of other words and phrases you can explore on the map. It's some nerdy fun.
Update: There's also an aggregate map showing how similar/different Albany is to other parts of the country. (Thanks, Craig!)
Earlier on AOA:
+ An Albany dialect?
+ New York State food regions map
Hi there. Comments have been closed for this item. Still have something to say? Contact us.