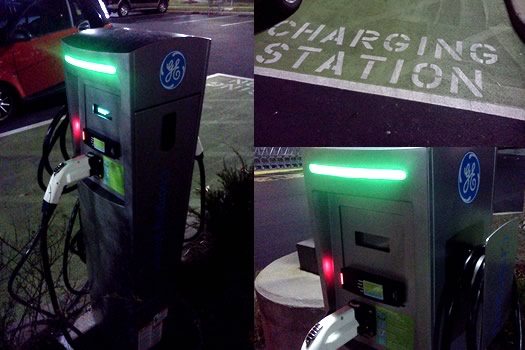 Gina recently contacted us looking to get some help with a situation, which breaks down like this: She and her husband are thinking about getting an electric car. He'd be using the car to commute -- he works at the Capitol. And though he's seen that the ESP has charging stations for electric vehicles, they're apparently not for general use.
As Gina commented in her email to us (link added):
"For all the hype and press releases from the Governor's office about a new network of chargers statewide, the actual process for using them *on state worker territory* is frustratingly opaque."
So we looked into the situation a bit. And we managed to get an answer. But more than anything, their situation highlights one of the challenges facing electric vehicles generally.
OK, so let's first address the specific. The state does have a few charging stations for electrical vehicles near the Capitol. Here's the response we got from Heather Groll, a spokesperson for the Office of General Services, about the stations:
"At the present time, electric vehicle charging stations are installed in the Empire State Plaza and 625 Broadway Garage for the express use of state pooled vehicles. A policy has not yet been established to address charging station use by state employees, but the issue remains under review."
So, for the time being, the stations aren't available to state employees for their private vehicles. And it's understandable there would need to be some sort of policy in place before that could happen -- with just a few chargers, there'd have to be some sort of way to schedule usage and fees, especially if there ends up being more than a handful of people with electric vehicles who'd like to use them. That said, with the Cuomo admin publicly trying to push the issue forward around the state, it'd be good to see the state work things out for itself sooner rather than later. Maybe Gina's husband's inquiries can help move things along.
Supply and demand
There are currently about 4,000 electric vehicles registered in the state, according to DMV data recently shared by NYSERDA. In a state with 19.5 million people, that's basically nothing. But the state is projecting there could be as many as 40,000 in five years -- and a million by 2025.
If that's going to happen, there will have to be places for those cars to re-fuel. To that end the state is pushing for the installation of 3,000 public and workplace charging stations by 2018. (It currently has about 200, based on info collected by the federal Department of Energy.)
That push gets at the sort of chicken-and-egg problem with electric vehicles: Will people buy them before there's a significant system in place to charge them? Or will there have to be a significant system in place before people take the plunge?
Because as things are now, buying an electric vehicle is a bit of leap of faith. And that brings us back to Gina and her husband.
Current options
As Gina explains it to us, they live about 30 miles away from the Capitol. Her husband would like to take public transit, but that's not an option because of where they live. So, in an attempt to minimize the environmental impact of the commute, they're looking to go electric.
As it happens, the daily distance he'd have to drive (60 miles round trip) is just about the worst distance for making this decision: it's close enough that you'd probably be able to make it on one charge, but far enough that you might not want to press your luck.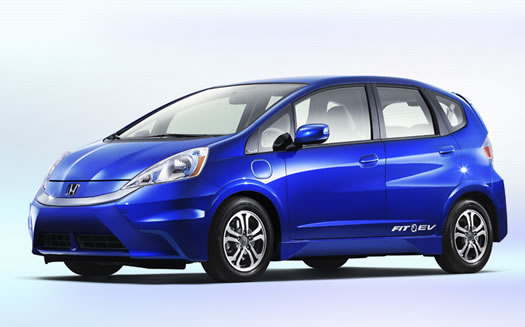 The Honda Fit EV. (photo: Honda)
For example: Gina and her husband are looking at buying one of the new Honda Fit EVs -- it's an all-electric version of the regular Honda Fit. The Fit EV has an estimated range of... 82 miles. Or take the all-electric Nissan Leaf -- it has an average range of 75 miles on a single charge. But as the company notes: "Speed, topography, load, and accessory use can significantly affect the estimated range."
As she said to us: "It's a big experiment, so having a plug in at my husband's work would make it very doable. Otherwise, it's too much of a crap shoot."
There are a few other options: The Chevy Volt is electric, but it also has a gas engine to take over when the electric runs out. And the cars made by Tesla, the flashy start up, have a max range of 300 miles. They also have a max price -- starting at $62,400.
Popping up
Whether because of expected demand, the lure of incentives, or just as a way to stand out, there are more electric charging stations popping up around the Capital Region. Among them:
+ A private-company called ChargePoint recently announced it would be installing 67 charging stations around National Grid's upstate coverage area -- the first one was at a hotel on Wolf Road in Colonie.
+ Oddly enough, supermarket competition may be pushing things ahead on this front. ShopRite installed a charging station at its Niskayuna store when it opened in 2011. And Price Chopper recently did the same at its Niskayuna store -- it already had a station at its downtown Saratoga store and plans thems for other locations.
+ There are charging stations where you might expect -- say, at a local Nissan dealer selling the Leaf. But there's also a station at an apartment complex in Guilderland and the Chili's on Wolf Road.
+ The closest charging station to the Capitol (aside from the stations for state vehicles) appears to be: at the Holiday Inn Express on Broadway in downtown Albany.
Hi there. Comments have been closed for this item. Still have something to say? Contact us.