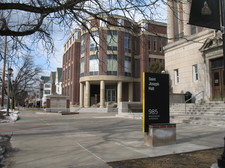 This comes as a surprise: St. Rose president David Szczerbacki is out after one year in the job, the college announced this morning.
Szczerbacki "elected not to renew his contract as president for the 2013-2014 academic year," according to a press release, which states that he cited "personal reasons" in his letter to the board of trustees.
Prior to becoming president Szczerbacki had been CSR's provost and vice president for academic affairs, the #2 job there, starting in 2004. He succeeded Mark Sullivan, who had been the college's president for 16 years.
St. Rose says it's starting a national search for a new president. In the interim, the duties of the president's job will be shared by current provost and VP for academic affairs Margaret Kirwin and VP for finance and administration Marcus Buckley. Sullivan will also be advising. (And the school is set to get a new provost starting July 1 -- Hadi Salavitabar, former dean of the School of Business at the SUNY New Paltz.)
Earlier on AOA: New president for College of St. Rose
The College of St. Rose advertises on AOA.