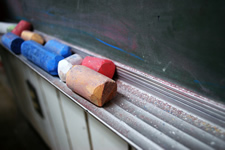 The state Department of Education released its annual collection of data about high school graduation rates around the state on Monday. The statewide graduation rate for the 2008 cohort of students was 74 percent, the same as the year before. (That counts kids who finished up by June 2012. The rate was almost 77 percent if students finished by August 2012 are included). And as NYSED notes, this was the first cohort in which the "local diploma" option was not available to general education students, requiring them to graduate with a more rigorous Regents diploma.
We pulled out the stats from Capital Region school districts. As in years past, there continues to be a sobering gap in graduation rates among some school districts and groups of students.
Sorted stats (including notes and qualifications) after the jump.
A note about the data
"Graduation rate" in the tables below counts students from the 2008 cohort who graduated as of August 2012 (four school years plus one summer). "Dropped out" is students who did not get a degree, did not transfer to a GED program, did not get an IEP diploma, or are not still enrolled.
Breakdowns by Capital Region school district and county -- with previous years' rates -- are in wide format above (scroll all the way up). Comparing just a few years isn't necessarily going to give you much sense of any significant trend, but it's there for casual comparison.
Below is the whole list for the Capital Region, sorted highest to lowest by graduation rate. In years past when we've posted these rates, people have (rightly) brought up the issue of household income and the percent of students with disabilities. So we've included the percentage of students who were tagged as being economically disadvantaged or having a disability or limited English proficient in each district's cohort. (More on that below.)
We've also included aggregate numbers for the four core counties of the Capital Region. These aggregate numbers highlight some of the troubling gaps that persist between different groups of students.
All data is from NYSED. In many cases, percentages have been rounded.
All Capital Region students
Numbers for Black and Hispanic students do not include Hispanic totals for Schenectady County because breakouts for that category were not available.
All Capital Region districts
NYSED defines (doc) "economically disadvantaged" as any student whose family is enrolled in at least one of a group of public assistance programs -- among them: free or reduced price lunch, food stamps, the earned income tax credit, the Home Energy Assistance Program. The disabilities category can include everything from physical disabilities to learning disabilities.
A few notes
+ Vorheesville takes the top spot, for the third year in a row.
+ Albany takes the bottom spot for the fourth year in a row. And its graduation rate slipped below 50 percent again. (It had been 52 percent the year before.) It was also facing one of the more challenging situations: more than half its cohort was economically disadvantaged, and a big chunk of it was tagged as having a disability.
+ As is also true statewide, there is a wide gap between the outcomes for white students (87 graduation percentage) and Black and Hispanic students (59 percent) in the Capital Region. Statewide the gap is 28 percentage points, according to NYSED, the same as it is here.
+ As is also true statewide, there is a wide gap between the general education population and students who have disabilities (34 percentage points) or are economically disadvantaged (15 percentage points).
Here's a NYSED pdf of district-by-district graduation rates with breakdowns by groups of students:
NYSED HS Graduation Rates by District 2012
photo: Flickr user Kyle McCluer
Hi there. Comments have been closed for this item. Still have something to say? Contact us.