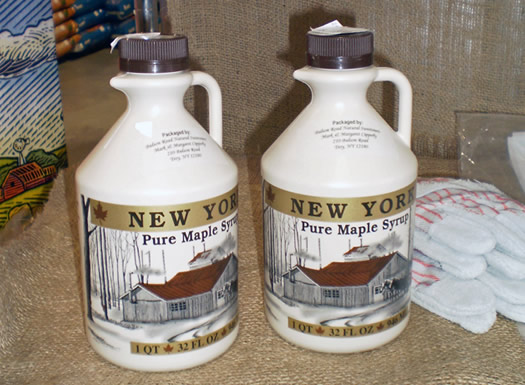 Agricultural fact of the day: New York State produced 574,000 gallons of maple syrup during the 2013 season, according to a recently-released USDA report.
New York's production represented almost 18 percent of the national total. It was second only to Vermont, which produced 1.32 million gallons, almost 41 percent of the national total. (Don't mess with the Green Mountain state when it comes to maple syrup.)
Production in New York -- and all around the nation -- was way up this year compared to 2012 because of that year's oddly warm spring. The weather last year significantly shortened the amount of time farmers could gather sap -- just 24 days on average. This year the average season was 37 days.
Anyway, here are a few useless "facts" about the size of New York's maple syrup production:
+ New York's 2013 production of maple syrup is enough for 25.5 million stacks of pancakes. (Assuming 3 oz of maple syrup per stack.)
+ It would fill almost 90 percent of an Olympic-size swimming pool.
+ It would cover an acre of land to a depth of 1.76 feet
+ If you could run a car on maple syrup (and what delicious exhaust that would be), the state's production would provide 43,485 fill-ups for a Civic or Corolla.
+ And if poured into the Egg, it would fill 3 percent of the space. (We estimated the Egg's volume at 72,500 cubic meters. Yeah, that number is squishy at best.)
Earlier on AOA:
+ The art and science of maple sugaring
+ Canadians bust "massive maple syrup heist"
Hi there. Comments have been closed for this item. Still have something to say? Contact us.