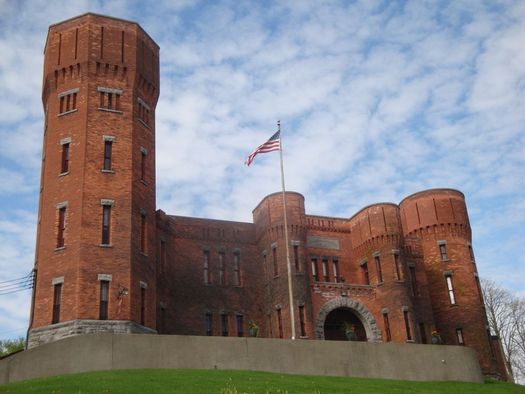 We heard today that the Amsterdam Castle -- which actually is a former armory, but looks like a castle -- finally sold. Soon-to-not-be-the-owner-any-longer Susan Phemister confirmed during a phone conversation.
She says the new owners are "very nice people who plan to live in the castle and continue to run it as a bed and breakfast." The building is currently closed while the Phemisters move out and the new owners make some renovations.
The Phemisters bought the 36,000-square-foot place in 2005 and, after a lot of renovation, opened it as a bed and breakfast and event space (it has a 10,000-square-foot gym). In the years since they put it up for sale a few times, most recently last year. But as Susan Phemister explained to the NYT this past April: "The market for castles in upstate New York dried up completely." At the time, the list price was $895,000. [Daily Gazette] [NYT]

And now it's sold. Phemister couldn't disclose information about who bought the castle -- the new owners are "very private," she explained to us -- but she says she wishes them the best and hopes they can enjoy the good will and interesting experiences that come with owning a castle.
So, what does one miss about living in a castle?
Phemister says she'll miss "sunsets on the front moat, having a glass of wine and overlooking the beautiful Mohawk Valley."
She'll also miss meeting the interesting people that came to do everything from campaign
to film movies at the castle. "I loved that the doorbell or the telephone would ring and it would be
someone wanting to film a television show, or a movie about Benedict Arnold."
Phemister says leaving the castle was a lifestyle choice designed to help focus on the education of their children.
"Would I do something like this again? Sure -- when I have an empty nest. I don't know if I'd do a castle, but maybe a church? It's been a wonderful experience and I wish the new owners the same."
Earlier on AOA: A few years back, Akum and her family stayed overnight at the Amsterdam Castle
Hi there. Comments have been closed for this item. Still have something to say? Contact us.