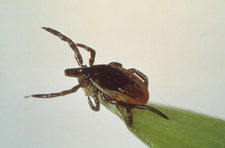 Laura asks via Facebook:
My husband was just diagnosed with Lyme disease after the ER doctor who saw him last week (when his temp reached nearly 105!!) spotted a tick bite that neither of us or his primary care physician noticed. We weren't such great fans of his PCP to begin with, but now we really want to find a better one. Not looking for infectious disease specialists, but a really good primary care or internal medicine physician who is especially Lyme literate would be a dream. ...
Anyone with Lyme have a doctor they really love?
This is an important question -- not only for Laura and her husband, but also because this region is part of zone along the East Coast where Lyme is particularly prevalent. And Lyme can be tricky to treat. (Chris Gibson is part of a group of elected officials pushing for increased federal funding for research and better testing for Lyme disease.)
Have a suggestion for Laura and her husband? Please share.
Earlier on AOA: The spread of Lyme disease
photo: CDC/Anna Perez
Hi there. Comments have been closed for this item. Still have something to say? Contact us.