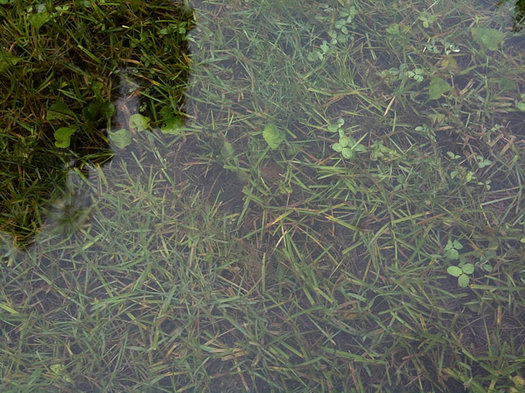 The weather this summer has probably not gone the way most of us expect summers to go in upstate New York. It's been muggy. It seems to rain every afternoon -- and hard. It's felt like... well, not here -- sort of like Florida or someplace.
So what's the deal? And when can we expect things to change?
As we often do when we have questions about local weather, we hit up NewsChannel 13 meteorologist Jason Gough for answers -- about rainy summers, long term forecasts, and how weather is like baseball. (There might also be something about frog anatomy).
Most of this summer so far has been hot and humid, with rain in the afternoons. It's like Florida or someplace else. What's going on?
I wouldn't say it's been hot; we've been overall about average temperature-wise, just a little above. We have had eight 90-degree-plus days which is a little above average for early/mid July but it's not unheard of.
The big focus has been the rain. It's all about the pattern we've been essentially stuck in since May 21. We had a decent, dry spring but on the 21st, seemed like a switch was flipped.
We ended up with 5.61 inches of rain in 8 days and really haven't looked back since. June finished 3rd wettest all time, and we were very close to #1. July has carried the ball, too. As of today (the 10th), we have 3.91 inches for the month; the average is 4.12 inches [for the whole month]. Safe to say we'll finish over that average, too.
We can't remember a recent summer in this area like this. How unusual is this type of weather?
You know, weather is a funny thing. There is so much psychology involved with how people feel and remember weather.
This weather is unusual in that we don't see it every other year, but I'd say that in any 10-year stretch, we'll have two or three summers that would make many of us grumpy. All you have to do is check the rainfall and temperatures to verify that.
"... I'd say that in any 10-year stretch, we'll have two or three summers that would make many of us grumpy."
On a side note, I was guilty of that, too. About 10 years ago, I would have bet my left leg that when I was in high school, we had a huge snow storm on Thanksgiving Day. We had a whopping 6 inches in 1985. Hardly huge -- I'd be in need of prosthetics. Now I look up the numbers, partly because that's my deal and partly because it's my job and responsibility to keep the numbers straight.
Weather can be like baseball in that regard -- all about the stats at the end of the day.
We realize long term forecasts are always sort of vague, but what's the outlook for the next month or so?
I don't give a fat frog's ass about long term forecasts for our area. I'm focused on the next 7 days. Anything beyond that is futile.
"I don't give a fat frog's ass about long term forecasts for our area. I'm focused on the next 7 days. Anything beyond that is futile."
We can see a potential pattern change, for example, after a week or so but it's impossible to tell if it is a change that will stick or one that is just temporary. As we were getting into our wet stretch after May 20, we actually had a decent week-long stretch from late May into early June. No way any long term forecasts would pick up on that, so to me it's a waste of time.
Other parts of the country respond and verify longterm forecasts, like a persisting drought in Texas for example. We're just too close to too many things that influence our weather in unpredictable ways long term or even medium term.
It seems like we've been getting "unusual" weather events more often. A tropical storm that plows through the area. Flooding. A bizarrely warm winter. Months with more rain than typical. How much of that do you think is just perception, and how much is -- you know -- the weather really has been weird over the last few years?
I never refer to weather as "weird". Weather is weather. There are very specific reasons why weather does what it does; it responds to the laws of physics and chemistry in predictable ways. The problem is, we don't know all of those ways. Your great grandkids will most likely not know all of those ways, either.
Tropical weather here is not that unusual; we deal with at least the remnants of some tropical system on the average of once every six years. Certainly it was unusual to have Irene show up, but not unheard of. Lee didn't help. Sandy was a different story, of course, but we didn't have many direct impacts from it here.
Perception is a good way to put it, I touched on that above. Perception is everything almost as soon as the weather event is over.
The interview was conducted via email and has been lightly edited.
Earlier on AOA: The summer so far, in pie chart form
Say Something!
We'd really like you to take part in the conversation here at All Over Albany. But we do have a few rules here. Don't worry, they're easy. The first: be kind. The second: treat everyone else with the same respect you'd like to see in return. Cool? Great, post away. Comments are moderated so it might take a little while for your comment to show up. Thanks for being patient.