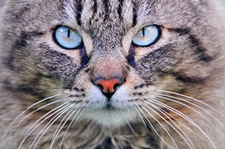 Jennifer emails:
At the risk of sounding like a crazy cat lady, I need help finding a groomer for my cat. Newborn baby + slightly neglected long haired cat = a total mess. We had a not so good experience with the vet recommended groomer. I appreciate the help!
We know there are a bunch of places for dog grooming. But cat grooming seems like it's probably harder to find. And it's our understanding that cats can sometimes be challenging when it comes to stuff like this. (Let's not even talk about trying to herd them.)
So, anyone have a suggestion for Jennifer and her cat? Please share!
Earlier on AOA: Ask AOA: Veterinarian care for cats?
photo: Flickr user Tambako The Jaguar (cc)

Hi there. Comments have been closed for this item. Still have something to say? Contact us.