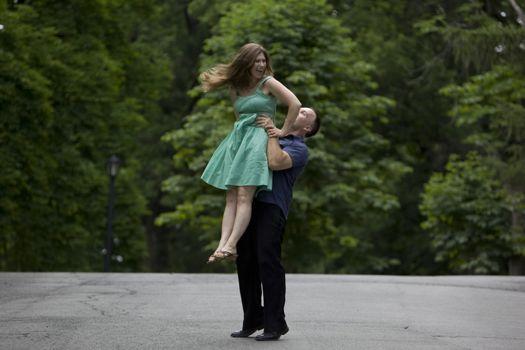 Monday again. Time for another My Exit, WEXT's show where listeners get to program an hour of their favorite music.
The right piece of music can bring you right back to a time or place in your life, or make you think about a certain person.
This week's My Exit DJs -- Jeremy and Sarah Clowe -- use music to take us on their journey together, from the Rolling Stones song that was playing when they first met, to Diego Garcia's Ray Davies cover they danced to at their wedding.
Who?

Jeremy and Sarah Clowe of Schenectady. Music has played such a big part in our relationship that we thought it would be fun to do a My Exit show to celebrate our one-year wedding anniversary.
Jeremy: "I am a veteran My Exit DJ and also had the opportunity to host a two-hour special earlier this year, celebrating the 30th anniversary of my favorite band of all-time, A-ha. We love WEXT!"
Sarah: "Jeremy and I both have a background in art, work at museums, enjoy the outdoors and dancing around to good music."

How would you describe your taste in music?

Jeremy: "Soulful, funky, introspective... frequently angular. I grew up loving music from the 1960s as a kid, and then found myself attracted to 1980s new wave/alternative music as a teenager. I have always had a strong affinity for clever pop music and true classic soul. I'm drawn to music that is defiant yet positive and emotionally honest."

Sarah: "I love music that has both a positive beat and message. I grew up exposed to a lot of folk music that frequently had a strong political/activist aspect to it and that has had an impact on me. I'm also drawn to a lot of indie rock music as well. Overall, I especially enjoy songs that are easy to both sing and dance along to (mostly done around the house with Jeremy ;-) "

A few songs from Jeremy and Sarah's My Exit show

"Under My Thumb" - The Rolling Stones

Jeremy: "This is the first song I remember dancing to with Sarah. I had just seen the Rolling Stones perform live in Albany back in 2005, and stopped by a local 80s dance club (The Fuze Box) to continue the celebration. I was surprised when this came on, and even more pleasantly surprised by my new dance partner!"

Sarah: "This was the first of many songs that Jeremy and I ever danced to. He literally swept me off my feet!"

Jeremy: "I haven't figured out if the lyrics are serious or not, but that jaunty beat is infectious -- the xylophone can't be beat."

"You Can't Hurry Love" - The Stray Cats
Jeremy: "Well, you've got it all here... '80s new wave rockabilly band covers classic Motown. Sarah actually helped me rediscover these guys, and I drove all the way from San Francisco to Reno to see them live a few years back. One of many fun rockabilly and big band songs we have listened to over the years to practice our swing dancing."

"In My Life"- The Beatles
Sarah: "Jeremy and I have both been big Beatles fans, and we actually had an all-Beatles wedding processional. My brother, Joel, played "In My Life" as my bridesmaids walked out, and "Here Comes The Sun" for my processional on acoustic guitar."

"Every Teardrop is a Waterfall" - Coldplay
Jeremy: "As Sarah mentioned, we both love hiking in the outdoors. Along the way we noticed we were gravitating towards spots with waterfalls, and have amassed quite a list of those discovered in New York, New England and beyond. When I finally decided to ask Sarah to marry me, it seemed like the perfect backdrop... and perhaps none better than Niagara Falls, near where I grew up in Western New York. This song came out around that time and it perfectly captures that feeling of exhilaration and high emotions I was feeling."

"Strange Effect" - Diego Garcia
Sarah: "We first heard Diego Garcia's version of The Kinks' b-side song at a live show sponsored by WEXT at The Linda. We enjoyed dancing to it and I asked Jeremy what he thought of it as our wedding song. We ended up using it for our first dance as a married couple."

Jeremy: "A few weeks later Diego Garcia played an outdoor concert up the street from us in Schenectady. During one of the encores at the end of his soulful set, he asked if 'that couple who used this song for their wedding dance was in the audience' (wonder how he heard about that?). Suddenly we found ourselves up onstage with Diego dancing for a second time to our wedding song... this time with a live serenade! Truly a magical moment... I have no doubt that there will be many more on the way for us."
You can hear Jeremy and Sarah's My Exit show Monday night at 11 pm on 97.7, Saturday at 8 am, or at exit977.org.
Here's how to schedule your own My Exit show on WEXT.