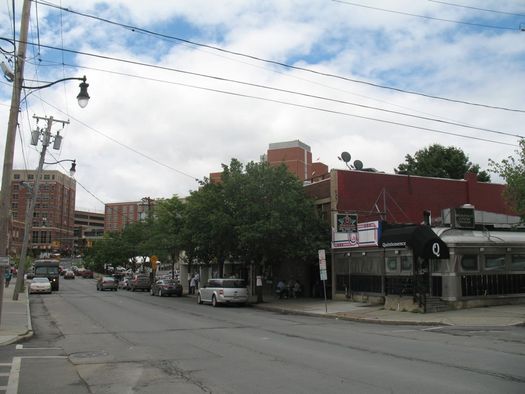 Albany Medical Center announced today that it's ready to move ahead with the second phase of the redevelopment of Albany's Park South neighborhood.
The plan for this next stage -- a $110 million project focused on residential and retail -- will wipe clear two whole blocks of the neighborhood for new buildings. And it holds the potential to fundamentally transform the surrounding neighborhood.
The area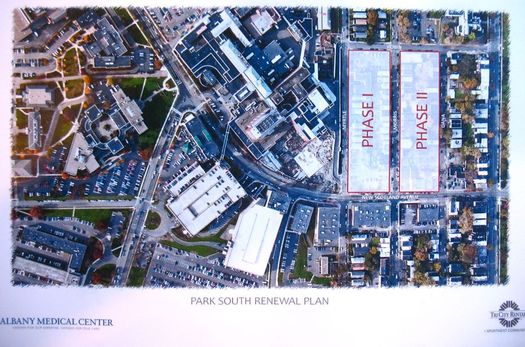 Park South is the narrow neighborhood that basically runs south of Madison Ave in Albany from Washington Park to Albany Med. This phase of the redevelopment plan is focused on the blocks bordered by New Scotland, Myrtle, Robin, and Dana.
The project would completely wipe clear those blocks to make way for new development.
The plan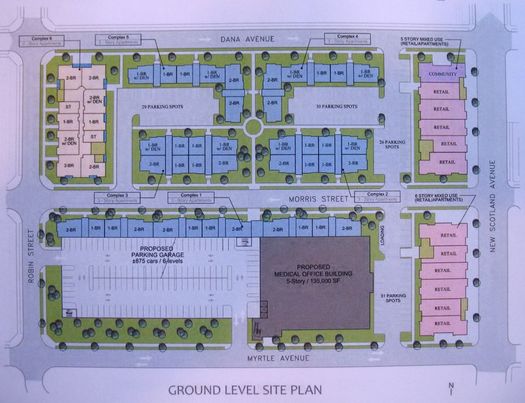 Renderings of the proposed buildings, along with some photos of the current streetscapes, are in large-format above -- scroll all the way up.
Albany Med CEO and president James Barba stated the overall goal of this project succinctly at today's press conference: "Through private and public partnership we will build a neighborhood."
Here's an outline of what the plan includes:
+ Two of mixed-use buildings along the blocks facing New Scotland -- one six floors tall, the other five. The buildings will have retail space on the street level and residential on the upper floors.
+ A 135,000 square foot medical office building between Myrtle and Morris, just off New Scotland.
+ A parking garage stretching the rest of the Myrtle block -- it will include approximately 875 spaces. The spaces will be used by the medical office building and the new residential units.
+ Residential: 251 market rate, "traditional urban neighborhood style" apartments, distributed along Morris, Dana, one block of Robin, and above the storefronts on New Scotland. The apartments will be all 2 BR, 1 BR, and studios, according to the renderings.
The redevelopment plan is expected to cost $110 million. Half of that will come from Albany Med. The other half is coming from Tri-City Rentals, the large property management company based in Albany. It will be leasing land from Albany Med for the mixed-use portions of the project. BBL Construction and Columbia Development are also involved.
Timeline
Albany Med is aiming to get the necessary approvals to move forward by November. If that happens, demolition of both blocks would begin in 2014. And construction on the first block -- Myrtle to Morris -- would also start next year. The second block -- Morris to Dana -- would be started in 2015. And the whole project would be completed by the end of 2015.
"We're anxious to get it going and get it finished," Barba said today at a press conference. He described the project as "interest rate sensitive," and with rates on the rise, there's incentive to move the project along swiftly.
These two blocks are part of the Park South Urban Renewal Plan that dates back to 2006, and has already been approved by the Common Council. Councilman Richard Conti -- whose ward includes the redevelopment area -- said today that the Albany Med plan introduced today is "substantially consistent" with that original plan, so it won't need a bunch of new approvals by the council. A few things Conti pointed out that will probably need review: the height of the buildings, the siting of the parking garage, and the absence of any rehabbed buildings in the new plan. But he seemed to think that approval by November was possible.
Leah Golby -- a Common Councilwoman whose district touches part of the redevelopment area, and who lives just a few blocks from Albany Med -- also noted a few things she wanted to take a closer look at, including the shape of the Myrtle Ave streetscape. But: "I think this is a great project." And she thought its outlook for approval is good.
Relocation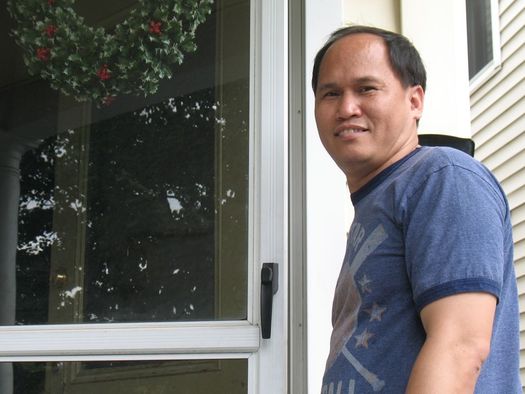 Alan Azana. His family lives on Morris Street.
A significant chunk of the buildings in the redevelopment zone -- mostly apartments and two families, already owned by Albany Med -- currently have people living in them. Barba said Tuesday that AMC has opened an office to assist these people with relocation, including potentially offering subsidies for their new residences. Barba said the goal is to conduct the relocation as "humanely and responsibly" as possible.
Standing on the porch of his apartment on Morris Street this afternoon, Alan Azana seemed resigned to what was happening. His wife works as a nurse for Albany Med, and his family has lived in their 2BR apartment for about three years. They got a letter on Monday informing them they'd have to be out by the end of the year.
"We're all upset," he said of his family and neighbors. "We just want to know where they're going to relocate us."
As you'd expect, Azana had a lot of questions about what's going to happen next. The primary one, aside from where they'd end up next: Whether they'd be able to find another 2BR apartment for something around their current rent of $425/month.
But he pointed out that they knew this day would come along, eventually. "It's their right to move us."
Optimism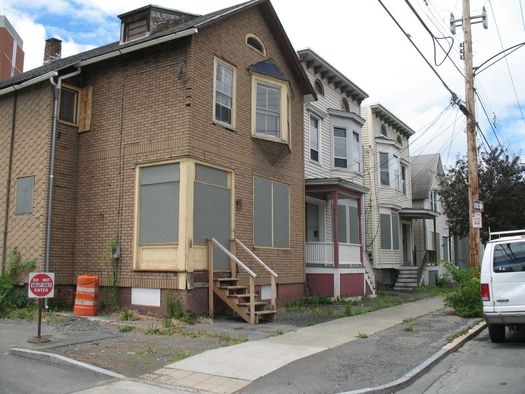 Park South hasn't had the greatest run over the last few decades. Many of the properties are blighted. And there have been problems with crime in the area. But when you zoom out a bit, the neighborhood has some strong positives, foremost among them its location within the city.
"This location has extraordinary potential," said Tim Owens, the general manager for Tri-City, citing the neighborhood's walkability and its proximity to Washington Park, Lark Street, and Albany Med. "This neighborhood will be a perfect match for residents seeking an urban lifestyle."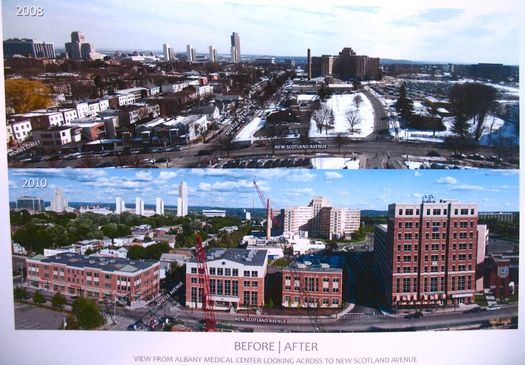 Albany Med has already spent something on the order of half a billion dollars significantly transforming the New Scotland Ave corridor near the medical center. And the hope among leaders is that this next phase will help spur further development. "It's only natural it will generate interest in the adjacent areas," Jerry Jennings told the crowd today.
Richard Conti called the plan a "significant step forward." He remarked that the residential density of the Albany Med plan would help sustain commercial activity along New Scotland. And combined with recent redevelopment on nearby Knox Street and the upcoming Delaware Ave Gateway plan, the wider neighborhood is picking up momentum. His hope is that will all eventually result in a diverse, mixed-income neighborhood.
One of the repeated themes in comments from officials today was the hope that Park South will grow into a vibrant, textured, diverse place -- a "real neighborhood" as Barba described it. And that's one of the questions about this situation: Can a big, top-down investment like this project cultivate that sort of place? Officials -- both public and private -- are betting it can. It will certainly be interesting to watch over the next few years.
Also on AOA: What about Valentine's, and the Quintessence building?
project renderings via Albany Medical Center
Find It
Park South residential and retail redevelopment
New Scotland Ave and Morris Street
Albany, NY 12208
Hi there. Comments have been closed for this item. Still have something to say? Contact us.