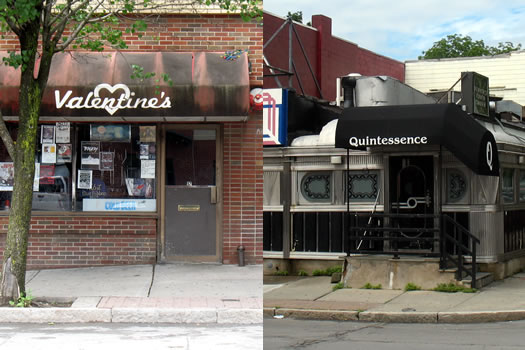 Updated
The Park South redevelopment plan announced by Albany Med Tuesday covers the block of New Scotland Ave that includes the music club Valentine's and the former Quintessence diner building. A lot of people have had a lot of good times at those spots.
That block is set to be completely cleared for new construction. So, what happens to both those places now?
Valentine's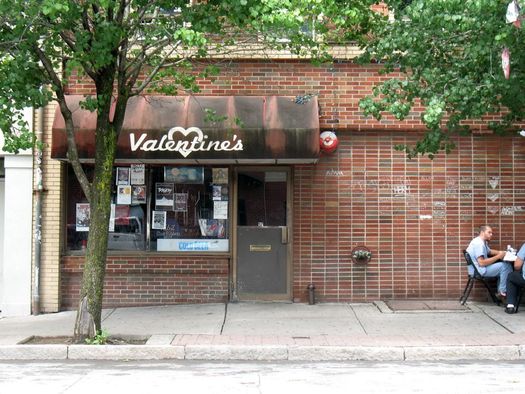 The website for Valentine's includes the tagline: "We're all about the urban renewal." And ever since redevelopment was first proposed for Park South -- dating back at least 7 years -- there have been rumors that Valentine's spot was in jeopardy. But every time word circulated that the end was near... nothing. But now it's here.
We emailed with Valentine's owner Howard Glassman Tuesday after the redevelopment announcement. He said he's been asking for info about when he'll have to be out of the leased building, but has yet to hear. He said he'll have a better sense of where the club's headed after he gets word. He was hoping that, like residents of the nearby apartments slated for demolition, Valentine's would have until the end of 2013.
As Glassman joked via email: "You just don't throw a funeral party together in a few days. Or maybe you do."
The Quintessence building
The Fodero diner building that housed the restaurant Quintessence -- twice -- has been in Albany since the 1930s (or 40s), after it was shipped up from New Jersey. The owners of the revived Quintessence sold to Albany Med last fall. On Tuesday, Albany Med CEO James Barba said the building is not part of the redevelopment plan.
Said Barba in response to a reporter's question about the "iconic" diner building: "It's iconic to some..." pausing as the audience began to laugh "... and not to others." He didn't count himself among the iconic crowd.
But: "If anyone would like it, free of charge, and is willing to move it, we would be happy to give it away." He said he was serious.
So if you've ever wanted a diner, here's your chance. Albany Med says serious inquiries can be sent to albanymedcommunications@mail.amc.edu.
Update: Here's the full section of Barba's comments in response to the question about the Quintessence building:
Reporter: Marc Gronich, Statewide News Service. I just wanted to ask you about the Quintessence. It's an iconic building. I understand you sold it to someone in Massachusetts...
No, that's not true. We own it. Uh, it's iconic to some... and not to others. (crowd laughter)
I have to be truthful. As someone who has lived in this area, to me it's a diner. It's been a good restaurant, but it looks like a diner and it feels like a diner.
Reporter: So what's going to happen?
Well, it is not a part of this plan. However, if anyone would like it (laughter) -- I'm not being silly -- If anyone would like it, free of charge, and is willing to move it, we would be happy to give it away.
So, I'm respectful of the people who do believe there's an iconic nature to that structure. But we don't have a plan for it in this set of plans.
Find It
Valentine's
17 New Scotland Ave
Albany, NY 12208
Hi there. Comments have been closed for this item. Still have something to say? Contact us.