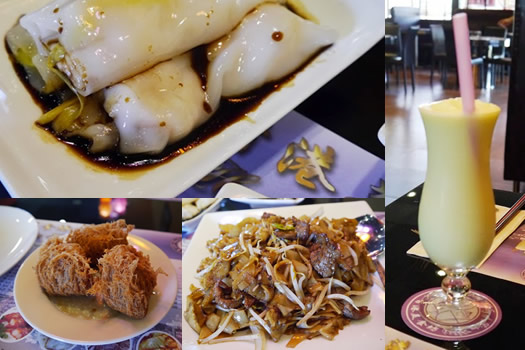 By Albany Jane
The Hong Kong Bakery recently moved from its location nestled in the front of the Asian Supermarket on Central Ave to 8 Wolf Road -- it's right at the southern end, across from Colonie Center between Cocca's Inn & Emperor's.
Among the changes: Their menu has expanded, and they added "bistro" to their name. It's now the Hong Kong Bakery and Bisto. And it lives up to the bistro moniker -- there's a counter to pick up baked goods and drinks to go, and sleek brushed metal tables with glass tops for dining in. It's cozy, casual, and chic at the same time. Go for a power lunch, or show up with a book and sweats, and you'll be welcome all the same.
After stopping in at the new location, here are a few things that are worth trying...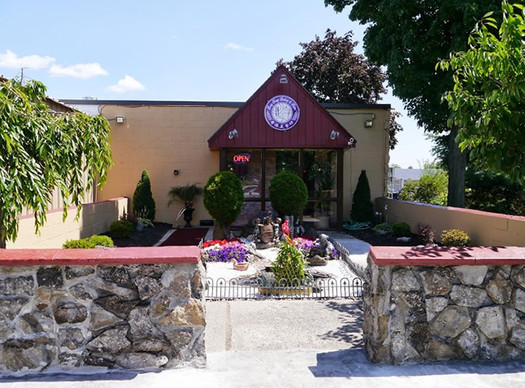 Parking and an entrance are in the back.
Dim sum made to order
The Hong Kong Bakery & Bistro has a full menu of Chinese dishes, and (this is where your ears perk up) dim sum made to order. This isn't frozen-then-reheated-to-order dim sum. No. It's fresh.
When I went mid-afternoon on a weekday, they had already sold out of a good number of dim sum dishes, so be prepared for a limited selection during their grand opening time period.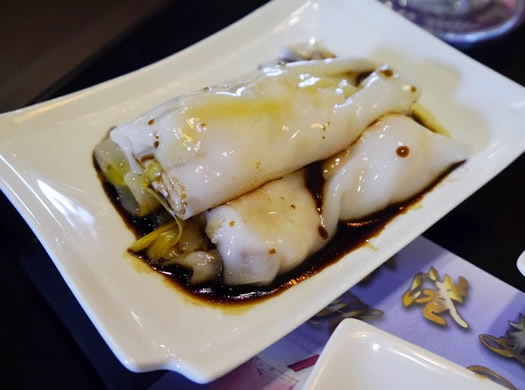 Rice rolls
They have MADE TO ORDER RICE ROLLS (cheung fan). These special treats are full of texture and flavor that absolutely have to be enjoyed as freshly-made as possible. When fresh, they are slippery, chewy, soft, supple affairs swimming in a sweetened soy sauce.
Shrimp is my favorite filling ($4.75), and the Hong Kong Bakery puts a twist on the classic by adding green scallion into the filling. The duck-filled cheung fan ($5.75) are 5-spiced savory delights with just enough veggies to add a textural contrast.
Price-wise, they're a bit on the steep side for cheung fan if you're used to NYC-prices, but they are generously portioned and the quality of the noodle is impeccable. Plus, it's cheaper than driving down to Flushing or Manhattan for "real" cheung fan (depending on how many you can eat).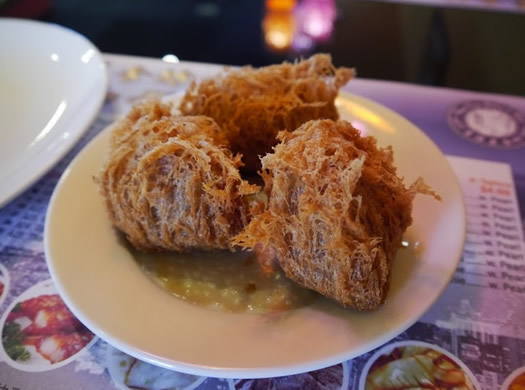 Taro dumplings
The deep fried taro dumplings ($3.75) are crunchy and lacy on the outside, but the mashed taro on the inside is creamy and stuffed with ground meat. Heavy, but oh so good.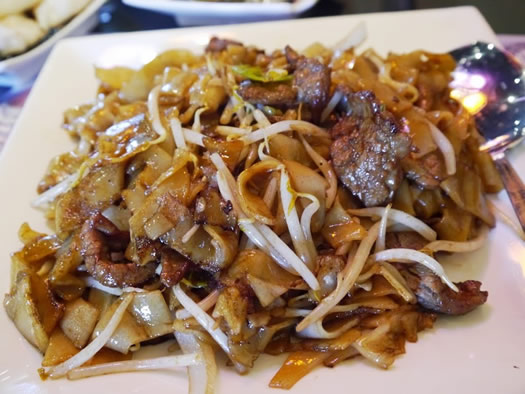 Chow fun
Their beef chow fun is also an excellent combination of flavor and texture -- soft pieces of rice noodles, slices of beef, bean sprouts, and onions, all kissed with char from the wok. The beef and noodles are soft and tender, while the onions and bean sprouts are lightly cooked and retain a refreshing crunchiness.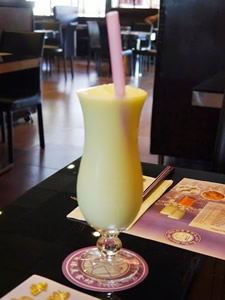 Honeydew smoothie
I picked up a honeydew smoothie ($3.99), which was lightly sweetened and refreshing for a warm summer day -- no powdered smoothie flavors here. There were small bits of honey dew in my icy smoothie as well. You can get them with boba for an extra $0.70, but I think the sweetened tapioca pearls put the smoothie in dessert territory.
____
One more thing: The Hong Kong Bakery & Bistro is currently unable to accept credit cards, so bring cash.
Albany Jane writes about her food adventures at Albany Eats.
Earlier on AOA: Six things to check out at the Asian Supermarket
Find It
Hong Kong Bakery and Bistro
8 Wolf Rd
Colonie, NY 12205
Hi there. Comments have been closed for this item. Still have something to say? Contact us.