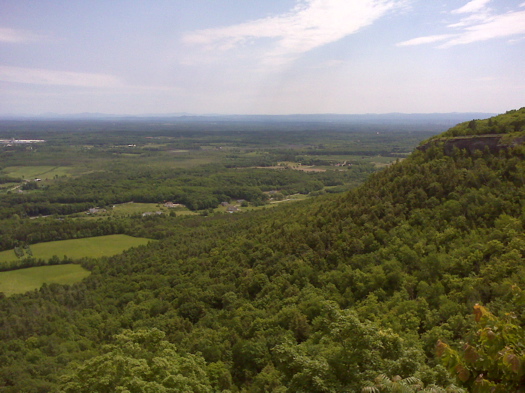 The state Office of Parks, Recreation & Historic Preservation is currently in the process of planning a bunch of upgrades for John Boyd Thacher and Thompson's Lake State Parks.
The draft plan is wide ranging, from relatively straightforward and much-needed stuff (like new bathrooms) to a redesign of the some of the park's most-used areas. Also part of the proposed plan: officially combining Thacher and Thompson's Lake into one park. A lot of the changes wouldn't happen overnight -- the plan's timeline could extend as long as 15 years. And, of course, everything is subject to the availability of funding.
There's a public hearing on the proposed master plan for the parks this Thursday (August 1) at the New Scotland town hall at 7 pm.
The planning docs are posted online. We read them through them this afternoon and pulled a few quick-scan highlights.
As mentioned, the following are just some highlights with some excerpts. Here's the full draft plan pdf -- it includes information on potential timelines and how the projects are prioritized. It's worth a look if you're interested in the future of the parks. (It doesn't take too long to read through the whole thing). And it includes some interesting bonus facts (example: Thompson's Lake was formed by a sink hole).
Merge John Boyd Thacher and Thompson's Lake State Parks
"The park will be called John Boyd Thacher State Park and the current camping area at Thompson's Lake State Park will be designated as the John Boyd Thacher State Park Campground."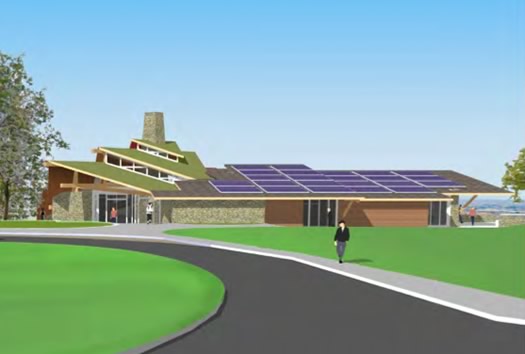 Rendering of the proposed visitors center.
Build a New Visitor Center/Park Office/Park Museum
The new center would be at the Indian Ladder picnic area. It would include park offices, meeting rooms, exhibits, rental spaces for functions, bathrooms and other amenities.
New bathrooms
Er, we mean comfort stations. "The existing comfort stations are at the end of their design lives, and are difficult to maintain. The new comfort stations will be ADA-accessible and built with durable materials."
Re-design the main area - "The Meadow" for recreation
A complete re-design of the site where the (fondly-remembered) pool once was. (A new pool is not in the plan.) The design includes new grassy space, a basketball court, and a "challenge course" on the site of the old pool:
This will include publicly accessible challenge elements such as ropes, low cables, and obstacles strung between or on poles. Equipment examples may include: swinging balance beam, triangle traverse, rope bridges and tire swings. This course is meant to test physical strength, stamina, agility, balance, and flexibility. The course also invites participants to confront their fears in a controlled situation. The course will be managed and operated by park personnel who will receive training from professional challenge course instructors.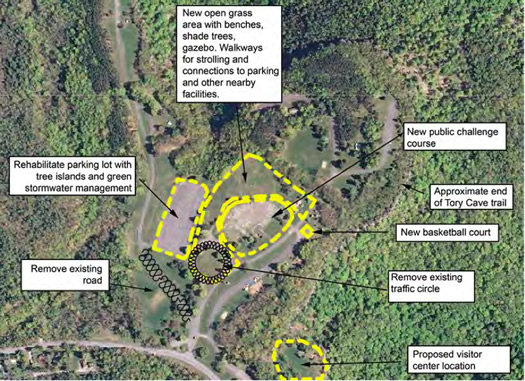 Proposed re-design of the area was the pool was.
Implement a rock climbing program
"Rock climbing will be opened at the park in selected areas. The activity will be by permit and will be managed by the park in cooperation with a locally managed not-for-profit rock climbing group. Details of this activity, including specific areas open to climbing, will be developed in a Climbing Management plan."
Solicit proposals from concessionaires to develop a high ropes adventure course in the park
The location for this facility isn't settled in the plan. But it would be a "high ropes course with multi-level challenges and obstacles" run by an outside company.
Install new Mountain Biking Skills Park and Trails
"The concept would be to design and install a skills park that will provide technical facilities that pose challenges in a graduated level of difficulty and a series of looped trails where riders can practice their skills. Mountain biking groups would be encouraged to cooperate in the design and maintenance of this area."
Expand the Thompson's Lake Beach.
Add about 1350 square feet to the beach area.
Re-design Glenn Doone Picnic area
The park's most popular picnic area gets a redesign, with updated bathrooms and concession areas and a new playground.
Trails
A park-wide rehabilitation of trails that would extend some routes, close some remnants, and provide better signage. It would also look at a potential bike path between connecting Thacher and Thompson's Lake.
____
Earlier on AOA:
+ Public comments for Thacher Park, Thompson's Lake
+ Thacher Park's namesake
+ The mystery at Hang Glider Cliff
+ Hiking the Indian Ladder Trail
draft plan images: NYS Office of Parks, Recreation & Historic Preservation
Hi there. Comments have been closed for this item. Still have something to say? Contact us.