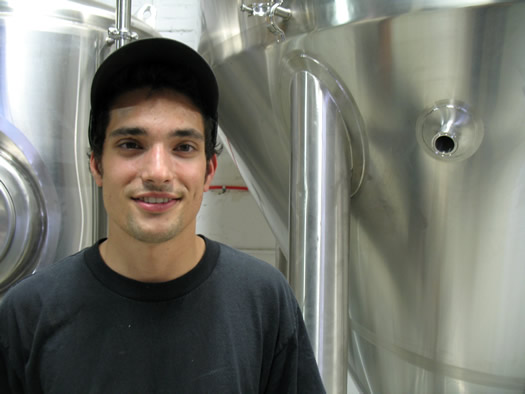 Every once in a while there's a moment that changes the direction of your life -- and sometimes it's small, the kind of thing you wouldn't even notice if not for the effect it later had.
Alejandro del Peral had one of those moments in a liquor store in Vermont a few years back. He had stopped into to get a bottle rum when a guy in the store put a bottle of hard cider in his hands.
"And he was like, 'Hey, we're making this up the street, you should give it a try.' And I was like, 'Sure.' So I bought it. And [my girlfriend] Emma and I drank it and it was incredible. And I was like, "Wow, this is amazing. I gotta see what these guys are about.'"
Now, about three years later -- because of the path that began in that store -- del Peral is starting his own cidery, Nine Pin Cider Works, in North Albany.
"I'm having these conversations with these guys and lightbulbs are just going off in my head. Oh my god, I have all these apples down by where I grew up. This incredible product. These guys are cool, their whole philosophy on cider making and apple growing and the relationship between the two is exactly what I believe and feel."
Here's the quick background on Alejandro del Peral: Born in Hudson, grew up in Ghent, went to McGill in Montreal for an undergrad degree in biology, and then moved on to the University of Vermont to work on a masters degree in hydrology.
It was in the Burlington area that Alejandro met the three guys behind the startup cidery Citizen Cider in that liquor store. That meeting -- and the cider -- prompted him to stop by the cidery for a tasting, where he got to talking with the trio.
"I'm having these conversations with these guys and lightbulbs are just going off in my head. Oh my god, I have all these apples down by where I grew up. This incredible product. These guys are cool, their whole philosophy on cider making and apple growing and the relationship between the two" -- sourcing locally from small orchards -- "is exactly what I believe and feel."
So he started interning, learning the process of making cider from the beginning. It appealed to his scientific background. "Their cider maker, Bryan Holmes, is a PhD in chemistry. So he taught me the whole science side ... it was really nice to get that type of training. Not just the production training, but the real science behind fermentation and producing cider was great training to have."
Del Peral says the internship eventually led to a job, and valuable experience in the cider business. "I started with them during their startup, so that really gave me a lot confidence to see them develop their [cidery]."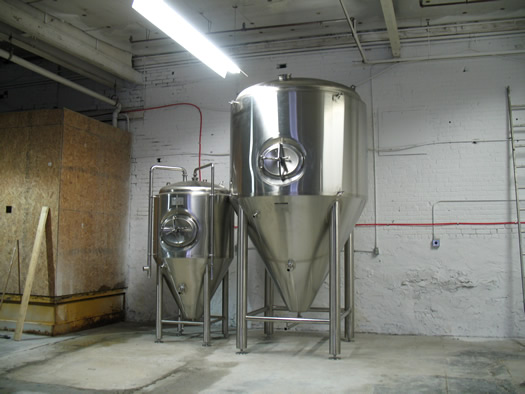 These tanks we recently delivered, the larger on its side. Getting it tilted up right and in the correct position was a whole process.
Vermont to Albany
When del Peral decided it was time to make the jump for his own startup -- Nine Pine Cider Works, named after the game in the Rip Van Winkle story -- he eyed Albany as a location. For a few reasons:
+ New York State is a huge producer of apples, second in the nation only to Washington State
+ But New York -- and especially this area -- also has a lot of small orchards, which del Peral says is key. "These small producers grow varieties I've never heard of, and I've been researching apples for the last 3-4 years. And there are guys who are really into growing that variety. So that was a huge draw, having those types of fruit available, types of apples that are hard to get elsewhere."
+ New York State government has been focused on legislation that makes things easier for small producers of alcohol -- including a farm cidery bill.
+ Albany is a good location -- close to a lot of apple orchards, close to a lot of other cities, close to where del Peral grew up in Columbia County. And he sees a lot of potential here: "It's got a cool population, a great area. And it's already got what I'm seeing as a burgeoning craft alcohol scene."
Nine Pin is setting up in warehouse space on the corner of Broadway and Thacher in North Albany, just up the street from the section that includes Wolff's, Sciortino's, Stout, and the Barrel Saloon. Del Peral says the space was appealing because it has the sort of amenities the operation needed -- stuff like floor drains and a loading dock -- but it also wasn't isolated. The plan includes a tasting room (with an entry on Broadway), so he wanted a place that would have people.
And in a coincidence, the space sits right below a mural of a rose on a building on Broadway -- a mural del Peral says was painted by his dad, Casiano.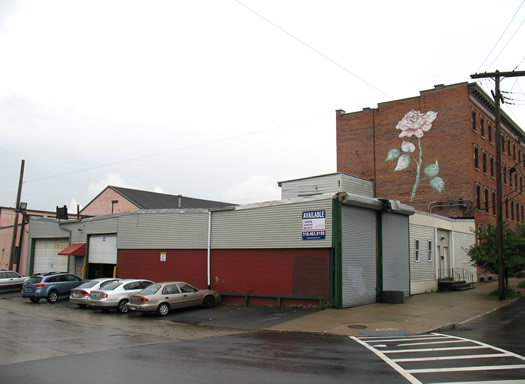 "'Yo, pops, there's your rose.' And then we showed up, right in the shadow of it, making hard cider. It's pretty cool."
Family
Alejandro del Peral says his parents were hesitant about his idea to start a cidery. But some early test batches of cider won them over, as did a gold medal at a cider competition in Michigan.
And now he says his parents on board, helping him out. His mom -- Sonya, an attorney -- has been helping with the business side of things and navigating the State Liquor Authority. And his dad -- a chef/artist/"eccentric"/fix-anything type of guy -- has been helping with getting the cider equipment set up.
"It's cool because he and I can talk about [the art and the flavor], and I can get down to the details of the numbers with my mom. It's a nice team. We work well together."
It turns out his dad has helped in another, eccentric way: by growing some rather odd apples. For whatever reason, del Peral says his dad has had an interest in growing apple trees that sprouted from the compost pile or volunteered from fallen apples on the family's property in Ghent. And the results are often... weird.
"You take a look at 'em and they look awful. They're bumpy and gnarly looking, and weird colors. Big brown spots on them. Just, like, gross-looking apples. Some of them are alright to eat, but a lot of them, you taste them and they're too sour or too bitter. They're not good eating apples. ... We'd feed 'em to pigs or chickens or let 'em rot in the ground and new ones would pop up."
"Then I started making hard cider, and I started realizing those flavors, what tastes bad in an eating apple actually translate really nicely when you ferment. That for me was like one of those lightbulbs, it's like, I'm looking for sourness, I'm looking for bitterness, I'm looking for that kind of thing. And I've got all these trees that I've never been able to use before, all of sudden here's a use for them."
del Peral says his family's trees won't ever be able to produce enough apples to provide a large portion of Nine Pin's supply, but that experience helped him think differently about the fruit and set him off on learning as much he can about unusual varieties.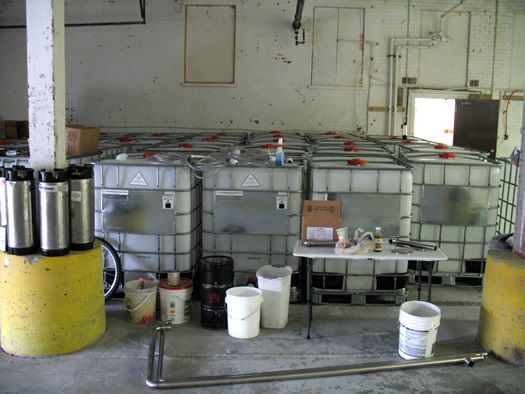 These totes hold 330 gallons. "We'll have a lot of cider ready," del Peral says.
The product
Pending approval of a license application with the SLA, del Peral says Nine Pin will start the process of producing cider this October after the local harvest of apples. He's aiming to create a flagship product that will be off-dry and easy to drink, available in kegs and 22 oz bottles. He's also planning smaller batches of speciality varieties for "cider snobs."
If all goes well, del Peral says it looks like they'll have product next February or March to distribute to bars, restaurants, and retail locations.
Since getting into the space three weeks ago, he says it's been 12-hour work days. And there's still a lot of setup ahead. It's a plan three years in the making.
"I'm hoping it will work. If it doesn't, it's like, I've pretty much screwed the rest of my life," he says, laughing. "I figure you gotta take a chance. I have the remainder of my life to recover from it."
Earlier on AOA:
+ Lost and found apples
+ Ravens Head Brewing: Cohoes Armory is a done deal
+ Albany Distilling Company
Hi there. Comments have been closed for this item. Still have something to say? Contact us.