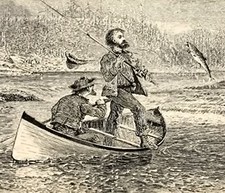 Sean emails (emphasis added):
I'm looking for recommendations for a weekend camp/cabin rental somewhere up in the Adirondacks. My desires are simple - on a body of water. I'm not looking for anything fancy or expensive - simpler is MUCH preferred. We like to swim, kayak, hike, have campfires, grill and just relax. My wife and I are looking to begin what we hope to become a yearly tradition for our new family. Where have you, your families or your friends gone that you might recommend?
Do you have any tips for searching for something like this, whether through realtors, any site that's specific to this kind of search, etc? Three years of NY living don't provide me with the strong base of relatives / schoolmates / neighbors who I can mine for recommendations. Any thoughts / help would be greatly appreciated!
If have a specific suggestion, by all means please share. But what we really like about Sean's question is that he's asking how to go about finding a place like this. Sometimes that's the best way to help someone.
So, suggestions for how Sean should start looking into? This summer is nearing an end, but it could help him (and others) get a jump on next summer.
Earlier on AOA:
+ Ask AOA: Weekend trips in the Adirondacks?
+ How to hike the High Peaks and not be That Guy
+ "The birthplace of the American vacation"
illustration from Adventures in the wilderness, or, Camp-life in the Adirondacks (1869) via archive.org
Hi there. Comments have been closed for this item. Still have something to say? Contact us.