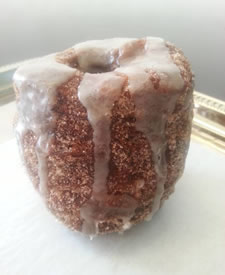 About a week ago we got a question from Spencer about where to find something like a cronut here in the Capital Region. As you might know, a cronut is essentially a donut made from croissant dough. The "pastry hybrid" is said to be the creation of Dominique Ansel, a chef in Manhattan (who also trademarked the name). It's become a thing, with long lines and other accompanying zaniness.
Anyway, we posted Spencer's question. And in doing so, we mentioned -- only about half seriously -- that some local bakery should look into making an apple cider cronut. You know, because upstate.
Well, it turned out that The Crisp Cannoli in East Greenbush has been making a "crodo" -- basically its version of the cronut. And today, apparently inspired by our suggestion, it unveiled, yes... The Apple Cider Croissant Donut (AKA: CRODO).
And with that, our work here is done. Thank you and goodnight.
photo: The Crisp Cannoli

Find It
The Crisp Cannoli
699 Columbia Turnpike
East Greenbush, NY 12061
Hi there. Comments have been closed for this item. Still have something to say? Contact us.